DWS Invest Gold and Prec Mtl Eqs FC
Performance History
31/07/2019
Growth of 1,000 (EUR)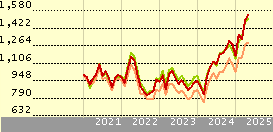 Fund
-18.9
61.8
-6.6
-2.5
37.3
+/-Cat
-4.9
0.0
-3.7
10.6
6.3
+/-Idx
-7.0
0.0
-5.8
2.3
3.8
 
Benchmarks: EMIX Global Mining Global G...
Key Stats
NAV
23/08/2019
 
EUR 96.55
Day Change
 
-0.32%
Morningstar Category™
 
Sector Equity Precious Metals
ISIN
 
LU0273148212
Fund Size (Mil)
23/08/2019
 
EUR 224.68
Share Class Size (Mil)
23/08/2019
 
EUR 10.36
Max Initial Charge
 
-
Ongoing Charge
19/02/2019
 
1.04%
Investment Objective: DWS Invest Gold and Prec Mtl Eqs FC
The objective of the investment is to achieve as high an appreciation as possible of capital invested in U.S. dollars by investing globally in companies in the precious-metals sector deemed to be promising. In doing so, at least 70% of the sub-fund's assets (after deduction of liquid assets) are invested in equities of foreign and domestic issuers whose revenues or earnings were generated primarily from the exploration for and the extraction and processing of gold, silver, platinum or other precious metals. The targeted companies can be active in exploration, extraction, production, processing and sales.
Returns
| | |
| --- | --- |
| Trailing Returns (EUR) | 23/08/2019 |
| YTD | 40.13 |
| 3 Years Annualised | 1.13 |
| 5 Years Annualised | 5.60 |
| 10 Years Annualised | -0.12 |
Management
Manager Name
Start Date
Not Disclosed
01/12/2016
Inception Date
20/11/2006
Benchmarks
Fund Benchmark
Morningstar Benchmark
Not Benchmarked
EMIX Global Mining Global Gold TR USD
Target Market
Role In Portfolio
Standalone / Core
Not Specific
Component
Not Specific
Other
Not Specific
Primary Objective
Preservation
Not Specific
Growth
Yes
Income
Not Specific
Hedging
Not Specific
Other
Not Specific
Portfolio Profile for  DWS Invest Gold and Prec Mtl Eqs FC
30/06/2019
Morningstar Style Box®
Equity Style
Asset Allocation
 
% Long
% Short
% Net Assets
Stocks
99.36
0.00
99.36
Bonds
0.00
0.00
0.00
Cash
3.94
3.31
0.64
Other
0.00
0.00
0.00
| | |
| --- | --- |
| Top 5 Regions | % |
| Canada | 53.22 |
| Australasia | 21.50 |
| Africa | 10.88 |
| United States | 10.27 |
| Latin America | 1.78 |
Top 5 Sectors
%
Basic Materials
100.00