Performance History
31/10/2017
Growth of 1,000 (EUR)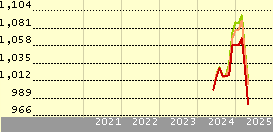 Fund
-8.2
17.2
1.2
5.6
-1.6
+/-Cat
-1.9
4.5
-4.2
1.4
1.8
+/-Idx
-1.4
2.7
-6.6
0.5
2.5
 
Benchmarks: BBgBarc Global Aggregate TR...
Key Stats
NAV
21/11/2017
 
USD 149.26
Day Change
 
0.53%
Morningstar Category™
 
Global Bond
ISIN
 
IE00B19Z4J92
Fund Size (Mil)
21/11/2017
 
USD 1236.48
Share Class Size (Mil)
21/11/2017
 
USD 57.12
Max Initial Charge
 
5.00%
Ongoing Charge
14/02/2017
 
1.38%
Analyst Report
This fund is a good choice for the risk tolerant. Steve Smith and David Hoffman have worked together for more than 20 years at Brandywine and have built a compact yet experienced team of analysts to contribute to this fund, which invests in...
Click here to read this analyst report
Morningstar Pillars
People
Positive
Parent
Positive
Process
Positive
Performance
Positive
Price
Negative
Investment Objective: Legg Mason BW Glb Fxd Inc A Acc $
To maximize total return consisting of income and capital appreciation. The Fund invests at all times at least two-thirds of its Total Asset Value in debt securities that are (i) rated investment grade at the time of purchase by a NRSRO, (ii) listed or traded on Regulated Markets primarily in the following developed countries and (iii) denominated in currencies of, or issuers located in, primarily the following developed countries: The United States, Canada, Australia, Japan, Austria, Belgium, Finland, France, Germany, Greece, Ireland, Italy, The Netherlands, Portugal, Spain, Denmark, Sweden, Switzerland, The United Kingdom, New Zealand, Norway, Hungary, Poland, and the Czech Republic.
Returns
| | |
| --- | --- |
| Trailing Returns | 21/11/2017 |
| YTD | -2.10 |
| 3 Years Annualised | 1.88 |
| 5 Years Annualised | 2.25 |
| 10 Years Annualised | 5.87 |
Management
Manager Name
Start Date
David Hoffman
30/09/2003
Stephen Smith
30/09/2003
Click here to see others
Inception Date
09/05/2007
Benchmarks
Fund Benchmark
Morningstar Benchmark
Citi WGBI USD
BBgBarc Global Aggregate TR USD
Portfolio Profile for  Legg Mason BW Glb Fxd Inc A Acc $
31/10/2017
Fixed Income
Effective Maturity
8.41
Effective Duration
4.71
Morningstar Style Box®
Fixed Income Style
Asset Allocation
 
% Long
% Short
% Net Assets
Stocks
0.00
0.00
0.00
Bonds
96.33
0.00
96.33
Cash
123.68
120.01
3.67
Other
0.00
0.00
0.00