Performance History
30/06/2019
Growth of 1,000 (EUR)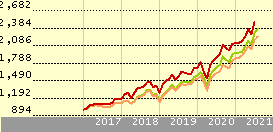 Fund
25.5
3.7
18.7
8.5
21.0
+/-Cat
11.0
-1.8
7.2
7.3
-0.6
+/-Idx
7.7
-6.5
4.3
5.1
-0.9
 
Benchmarks: Russell 1000 Growth TR USD
Key Stats
NAV
15/07/2019
 
USD 40.85
Day Change
 
0.33%
Morningstar Category™
 
US Large-Cap Growth Equity
ISIN
 
LU0284526679
Fund Size (Mil)
12/07/2019
 
USD 795.96
Share Class Size (Mil)
12/07/2019
 
USD 113.94
Max Initial Charge
 
-
Ongoing Charge
11/03/2019
 
0.02%
Analyst Report
T. Rowe Price US Blue Chip Growth is a standout, earning a Morningstar Analyst Rating of Gold.Larry Puglia, manager since the strategy's inception in 1993 and two-time nominee for Morningstar's Domestic-Stock Fund Manager of the Year in the...
Click here to read this analyst report
Morningstar Pillars
People
Positive
Parent
Positive
Process
Positive
Performance
Positive
Price
Positive
Investment Objective: T. Rowe Price US Blue Chip Eq J USD
To increase the value of its shares, over the long term, through growth in the value of its investments. The fund invests mainly in a diversified portfolio of stocks of large and medium sized ?blue chip? companies in the United States. The fund may use derivatives for hedging and efficient portfolio management.
Returns
| | |
| --- | --- |
| Trailing Returns (EUR) | 15/07/2019 |
| YTD | 27.54 |
| 3 Years Annualised | 21.23 |
| 5 Years Annualised | 20.49 |
| 10 Years Annualised | 21.18 |
Management
Manager Name
Start Date
Larry Puglia
05/02/2003
Inception Date
20/02/2007
Benchmarks
Fund Benchmark
Morningstar Benchmark
S&P 500 TR USD
Russell 1000 Growth TR USD
Target Market
Role In Portfolio
Standalone / Core
Not Specific
Component
Not Specific
Other
Not Specific
Primary Objective
Preservation
Not Specific
Growth
Yes
Income
Not Specific
Hedging
Not Specific
Other
Not Specific
Portfolio Profile for  T. Rowe Price US Blue Chip Eq J USD
31/03/2019
Morningstar Style Box®
Equity Style
Asset Allocation
 
% Long
% Short
% Net Assets
Stocks
99.67
0.00
99.67
Bonds
0.00
0.00
0.00
Cash
0.33
0.00
0.33
Other
0.00
0.00
0.00
| | |
| --- | --- |
| Top 5 Regions | % |
| United States | 93.38 |
| Asia - Emerging | 5.81 |
| Canada | 0.69 |
| Europe - ex Euro | 0.12 |
| Latin America | 0.00 |
Top 5 Sectors
%
Technology
31.47
Consumer Cyclical
22.13
Healthcare
19.64
Financial Services
13.19
Industrials
11.74