Fidelity UK Smaller Companies Y-Acc
Performance History
28/02/2019
Growth of 1,000 (EUR)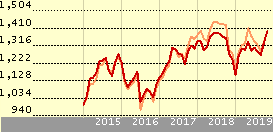 Fund
22.7
-6.5
17.0
-13.5
11.9
+/-Cat
0.9
0.5
-4.2
-0.5
1.5
+/-Idx
3.7
-3.7
5.8
1.3
2.4
 
Benchmarks: FTSE Small Cap Ex Invest Tr...
Key Stats
NAV
21/03/2019
 
GBX 275.80
Day Change
 
-1.35%
Morningstar Category™
 
UK Small-Cap Equity
ISIN
 
GB00B3P1W132
Fund Size (Mil)
28/02/2019
 
GBP 362.89
Share Class Size (Mil)
21/03/2019
 
GBP 4.30
Max Initial Charge
 
-
Ongoing Charge
17/01/2019
 
1.17%
Investment Objective: Fidelity UK Smaller Companies Y-Acc
The Fund's investment objective is to achieve long term capital growth from a portfolio primarily made up of the shares of smaller capitalisation United Kingdom Companies. There is no policy to restrict investment to particular economic sectors. The Fund may also invest in other transferable securities, units in collective investment schemes, money market instruments, cash and deposits. Derivatives and forward transactions may also be used for investment purposes.
Returns
| | |
| --- | --- |
| Trailing Returns (GBP) | 21/03/2019 |
| YTD | 11.97 |
| 3 Years Annualised | 4.73 |
| 5 Years Annualised | 6.52 |
| 10 Years Annualised* | 23.22 |
Management
Manager Name
Start Date
Alexander Wright
10/02/2011
Jonathan Winton
01/03/2013
Inception Date
10/02/2011
Benchmarks
Fund Benchmark
Morningstar Benchmark
Numis SC Ex Invt Com TR GBP
FTSE Small Cap Ex Invest Trust TR GBP
Target Market
Role In Portfolio
Standalone / Core
Not Specific
Component
Not Specific
Other
Not Specific
Primary Objective
Preservation
Not Specific
Growth
Yes
Income
Not Specific
Hedging
Not Specific
Other
Not Specific
Portfolio Profile for  Fidelity UK Smaller Companies Y-Acc
30/11/2018
Morningstar Style Box®
Equity Style
Asset Allocation
 
% Long
% Short
% Net Assets
Stocks
96.57
1.22
95.35
Bonds
1.57
0.00
1.57
Cash
8.35
8.45
-0.10
Other
3.18
0.00
3.18
| | |
| --- | --- |
| Top 5 Regions | % |
| United Kingdom | 88.61 |
| Eurozone | 7.45 |
| Africa | 1.49 |
| Canada | 1.20 |
| Asia - Emerging | 0.99 |
Top 5 Sectors
%
Industrials
30.69
Consumer Cyclical
25.44
Financial Services
10.39
Basic Materials
7.52
Real Estate
7.45