Performance History
31/05/2019
Growth of 1,000 (EUR)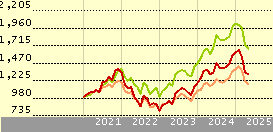 Fund
20.6
11.2
24.0
7.4
23.4
+/-Cat
6.3
0.8
3.5
11.9
7.9
+/-Idx
3.9
-3.6
2.6
5.1
3.9
 
Benchmarks: MSCI World/Information Tech...
Key Stats
NAV
18/06/2019
 
USD 30.77
Day Change
 
2.02%
Morningstar Category™
 
Sector Equity Technology
ISIN
 
LU0626261944
Fund Size (Mil)
31/05/2019
 
USD 2793.94
Share Class Size (Mil)
31/05/2019
 
USD 137.98
Max Initial Charge
 
-
Ongoing Charge
25/01/2019
 
0.85%
Analyst Report
The fund's new leadership and uncertainties around the implementation of the investment approach sees it earn a Morningstar Analyst Rating of Neutral.J.P Scandalios' appointment to the role of comanager on Franklin Small-Mid Cap Growth in 2016...
Click here to read this analyst report
Morningstar Pillars
People
Neutral
Parent
Neutral
Process
Neutral
Performance
Neutral
Price
Neutral
Investment Objective: Franklin Technology I Acc USD
The Fund's investment objective is capital appreciation. The Fund invests at least two-thirds of its net invested assets in equity securities of US and non US companies expected to benefit from the development, advancement, and use of technology and communication services and equipment. The Fund invests in securities of US and non US large, well-established companies, as well as small to medium-sized companies, that the Investment Manager believes provide good emerging growth opportunities. The Fund may also invest in equity or debt securities of any type of foreign or US issuer as well as in American, European or Global Depositary Receipts.
Returns
| | |
| --- | --- |
| Trailing Returns (EUR) | 18/06/2019 |
| YTD | 30.11 |
| 3 Years Annualised | 26.35 |
| 5 Years Annualised | 22.84 |
| 10 Years Annualised | - |
Management
Manager Name
Start Date
James Cross
01/06/2016
Jonathan Curtis
01/06/2016
Click here to see others
Inception Date
27/05/2011
Benchmarks
Fund Benchmark
Morningstar Benchmark
MSCI World/Information Tech NR USD
MSCI World/Information Tech NR USD
Target Market
Role In Portfolio
Standalone / Core
Not Specific
Component
Not Specific
Other
Not Specific
Primary Objective
Preservation
Not Specific
Growth
Yes
Income
Not Specific
Hedging
Not Specific
Other
Not Specific
Portfolio Profile for  Franklin Technology I Acc USD
31/05/2019
Morningstar Style Box®
Equity Style
Asset Allocation
 
% Long
% Short
% Net Assets
Stocks
94.81
0.00
94.81
Bonds
0.00
0.00
0.00
Cash
2.61
0.00
2.61
Other
2.59
0.00
2.59
| | |
| --- | --- |
| Top 5 Regions | % |
| United States | 90.12 |
| Asia - Emerging | 6.31 |
| Eurozone | 1.24 |
| Canada | 1.18 |
| Asia - Developed | 1.15 |
Top 5 Sectors
%
Technology
77.26
Financial Services
8.94
Consumer Cyclical
8.81
Real Estate
3.30
Industrials
1.04