William Blair SICAV EM Small Cap Gr D $
Performance History
28/02/2015
Growth of 1,000 (EUR)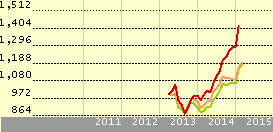 Fund
-
-
-
30.4
10.1
+/-Cat
-
-
-
16.4
-
+/-Idx
-
-
-
17.5
-
 
Benchmarks: MSCI Emerging Markets SMID ...
Key Stats
NAV
26/02/2015
 
USD 125.17
Day Change
 
1.00%
Morningstar Category™
 
Global Emerging Markets Small/Mid-Cap Equity
ISIN
 
LU0874276412
Fund Size (Mil)
16/09/2019
 
USD 163.65
Share Class Size (Mil)
26/02/2015
 
USD 0.22
Max Initial Charge
 
-
Ongoing Charge
10/02/2017
 
2.29%
Investment Objective: William Blair SICAV EM Small Cap Gr D $
The Emerging Markets Small Cap Growth Fund seeks long-term capital appreciation measured in US$. Under normal market conditions, the Fund invests at least 80% of its net assets (plus the amount of any borrowings for investment purposes) in equity securities of emerging market small capitalization ("small cap") companies. The Fund invests primarily in a diversified portfolio of equity securities, including common stocks and other forms of equity investments (e.g., securities convertible into common stocks), issued by emerging market small cap companies that the Investment Manager believes have above average growth, profitability and quality characteristics.
Returns
| | |
| --- | --- |
| Trailing Returns (EUR) | 26/02/2015 |
| YTD | 10.14 |
| 3 Years Annualised | - |
| 5 Years Annualised | - |
| 10 Years Annualised | - |
Management
Manager Name
Start Date
Todd McClone
01/03/2013
Casey Preyss
01/05/2016
Inception Date
12/03/2013
Benchmarks
Fund Benchmark
Morningstar Benchmark
MSCI EM Small NR USD
MSCI Emerging Markets SMID NR USD
Target Market
Role In Portfolio
Standalone / Core
Not Specific
Component
Not Specific
Other
Not Specific
Primary Objective
Preservation
Not Specific
Growth
Not Specific
Income
Not Specific
Hedging
Not Specific
Other
Not Specific
Portfolio Profile for  William Blair SICAV EM Small Cap Gr D $
31/08/2019
Morningstar Style Box®
Equity Style
Asset Allocation
 
% Long
% Short
% Net Assets
Stocks
98.99
0.00
98.99
Bonds
0.00
0.00
0.00
Cash
1.01
0.00
1.01
Other
0.00
0.00
0.00
| | |
| --- | --- |
| Top 5 Regions | % |
| Asia - Emerging | 50.57 |
| Asia - Developed | 22.13 |
| Latin America | 19.06 |
| Europe - Emerging | 2.61 |
| Africa | 2.42 |
Top 5 Sectors
%
Consumer Cyclical
25.05
Technology
23.16
Consumer Defensive
12.54
Financial Services
11.89
Healthcare
7.57