Performance History
31/08/2019
Growth of 1,000 (EUR)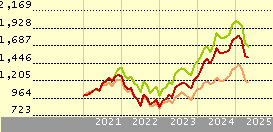 Fund
15.1
17.2
25.8
5.4
32.9
+/-Cat
0.8
6.8
5.4
9.8
8.5
+/-Idx
-1.6
2.4
4.4
3.1
0.6
 
Benchmarks: MSCI World/Information Tech...
Key Stats
NAV
17/09/2019
 
USD 25.88
Day Change
 
0.23%
Morningstar Category™
 
Sector Equity Technology
ISIN
 
IE00BFRSYS74
Fund Size (Mil)
17/09/2019
 
USD 178.71
Share Class Size (Mil)
17/09/2019
 
USD 0.94
Max Initial Charge
 
-
Ongoing Charge
13/02/2019
 
1.05%

*  This rating and report were issued for a different share class of this fund. The performance and fee structure of this class may vary from that referenced.
Analyst Report
Janus Henderson Global Technology benefits from a talented investment team, but high fees limit its Morningstar Analyst Rating to Neutral.The strategy recently underwent a leadership change. Denny Fish, who's comanaged since 2016, took over as...
Click here to read this analyst report
Morningstar Pillars
People
Positive
Parent
Neutral
Process
Positive
Performance
Positive
Price
Negative
Investment Objective: Janus Henderson Glb Tech U USD Acc
This Fund´s investment objective is long-term growth of capital. It pursues its objective by investing primarily in Technology related equity securities of companies located anywhere ni the world and selected for their growth potential.
Returns
| | |
| --- | --- |
| Trailing Returns (EUR) | 17/09/2019 |
| YTD | 35.43 |
| 3 Years Annualised | 24.25 |
| 5 Years Annualised | 21.55 |
| 10 Years Annualised | - |
Management
Manager Name
Start Date
J. Slingerlend
12/05/2011
Denny Fish
31/12/2015
Inception Date
31/10/2013
Benchmarks
Fund Benchmark
Morningstar Benchmark
MSCI ACWI/Information Technology NR USD
MSCI World/Information Tech NR USD
Target Market
Role In Portfolio
Standalone / Core
Not Specific
Component
Not Specific
Other
Not Specific
Primary Objective
Preservation
Not Specific
Growth
Yes
Income
Not Specific
Hedging
Not Specific
Other
Not Specific
Portfolio Profile for  Janus Henderson Glb Tech U USD Acc
31/08/2019
Morningstar Style Box®
Equity Style
Asset Allocation
 
% Long
% Short
% Net Assets
Stocks
99.04
0.00
99.04
Bonds
0.00
0.00
0.00
Cash
0.95
0.00
0.95
Other
0.00
0.00
0.00
| | |
| --- | --- |
| Top 5 Regions | % |
| United States | 81.97 |
| Asia - Emerging | 6.49 |
| Asia - Developed | 4.98 |
| Eurozone | 2.95 |
| Japan | 0.99 |
Top 5 Sectors
%
Technology
71.75
Consumer Cyclical
12.58
Financial Services
4.87
Real Estate
4.40
Industrials
3.39