LGT Crown Listed Private Eq A EUR Acc
Performance History
28/02/2019
Growth of 1,000 (EUR)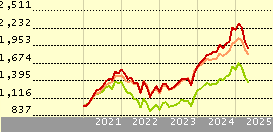 Fund
8.7
16.1
12.8
-4.8
11.9
+/-Cat
2.6
5.4
5.8
-6.7
3.6
+/-Idx
-4.2
1.7
2.7
5.4
-2.4
 
Benchmarks: Red Rocks Gbl Listed Privat...
Key Stats
NAV
20/03/2019
 
EUR 208.16
Day Change
 
1.04%
Morningstar Category™
 
Sector Equity Private Equity
ISIN
 
IE00B8JFF067
Fund Size (Mil)
20/03/2019
 
EUR 399.00
Share Class Size (Mil)
20/03/2019
 
EUR 27.50
Max Initial Charge
 
-
Ongoing Charge
16/01/2019
 
1.58%
Investment Objective: LGT Crown Listed Private Eq A EUR Acc
LGT Crown Listed Private Equity is an actively managed long-only portfolio. The fund typically invests in shares of companies which give investors direct or indirect exposure to private equity assets around the globe. The investment selection is based on fundamental analysis. The fund typically consists of 20-40 single positions and follows a benchmark-agnostic approach. The investment objective is to outperform public equity markets.
Returns
| | |
| --- | --- |
| Trailing Returns (GBP) | 20/03/2019 |
| YTD | 13.29 |
| 3 Years Annualised | 14.29 |
| 5 Years Annualised | 11.81 |
| 10 Years Annualised | - |
Management
Manager Name
Start Date
Benjamin Isler
25/02/2013
Inception Date
25/02/2013
Benchmarks
Fund Benchmark
Morningstar Benchmark
Not Benchmarked
Red Rocks Gbl Listed Private Eqty TR USD
Target Market
Role In Portfolio
Standalone / Core
Not Specific
Component
Not Specific
Other
Not Specific
Primary Objective
Preservation
Not Specific
Growth
Yes
Income
Not Specific
Hedging
Not Specific
Other
Not Specific
Portfolio Profile for  LGT Crown Listed Private Eq A EUR Acc
30/04/2018
Morningstar Style Box®
Equity Style
Asset Allocation
 
% Long
% Short
% Net Assets
Stocks
53.09
0.00
53.09
Bonds
0.00
0.00
0.00
Cash
6.86
0.01
6.85
Other
40.06
0.00
40.06
| | |
| --- | --- |
| Top 5 Regions | % |
| United States | 67.53 |
| Canada | 16.49 |
| Eurozone | 14.02 |
| United Kingdom | 1.96 |
| Latin America | 0.00 |
Top 5 Sectors
%
Financial Services
95.68
Industrials
4.32
Consumer Cyclical
0.00
Energy
0.00
Technology
0.00