Mercer Sterling Infl Lnkd LDI Bd M-5£Inc
Performance History
28/02/2019
Growth of 1,000 (EUR)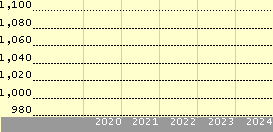 Fund
-
-
-
-
5.3
+/-Cat
-
-
-
-
0.5
+/-Idx
-
-
-
-
0.8
 
Benchmarks: BBgBarc Gbl Infl Linked UK ...
Key Stats
NAV
20/03/2019
 
GBP 105.90
Day Change
 
2.40%
Morningstar Category™
 
GBP Inflation-Linked Bond
ISIN
 
IE00B9951H28
Fund Size (Mil)
19/03/2019
 
GBP 251.80
Share Class Size (Mil)
19/03/2019
 
GBP 25.76
Max Initial Charge
 
-
Ongoing Charge
-
 
-%
Investment Objective: Mercer Sterling Infl Lnkd LDI Bd M-5£Inc
The Investment objective of the Fund is to provide real income and capital growth to investors. The Investment Manager proposes to achieve this objective bu investing primarily in Sterling denominated inflation linked bonds. THe Fund may also invest in other types of freely transferable debt securities, depending on market conditions, which are denominated in Sterling that are not indexed to inflation.
Returns
| | |
| --- | --- |
| Trailing Returns (GBP) | 20/03/2019 |
| YTD | 18.09 |
| 3 Years Annualised | - |
| 5 Years Annualised | - |
| 10 Years Annualised | - |
| | | |
| --- | --- | --- |
| 12 Month Yield |   | - |
| Dividend Paying Frequency |   | Annually |
Management
Manager Name
Start Date
-
-
Inception Date
08/08/2018
Benchmarks
Fund Benchmark
Morningstar Benchmark
Not Benchmarked
BBgBarc Gbl Infl Linked UK TR GBP
Target Market
Role In Portfolio
Standalone / Core
Not Specific
Component
Not Specific
Other
Not Specific
Primary Objective
Preservation
Not Specific
Growth
Not Specific
Income
Not Specific
Hedging
Not Specific
Other
Not Specific
Portfolio Profile for  Mercer Sterling Infl Lnkd LDI Bd M-5£Inc
-
Top 5 Holdings
%
No Data Available
Fixed Income
Effective Maturity
-
Effective Duration
-
Morningstar Style Box®
Fixed Income Style
Asset Allocation
 
% Long
% Short
% Net Assets