Performance History
31/05/2019
Growth of 1,000 (EUR)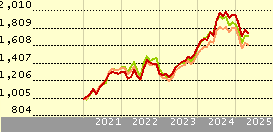 Fund
17.0
4.6
23.0
-3.3
6.5
+/-Cat
8.9
1.6
-0.8
4.9
-1.9
+/-Idx
12.5
3.1
1.1
-0.7
-4.2
 
Benchmarks: MSCI India NR USD
Key Stats
NAV
25/06/2019
 
USD 103.49
Day Change
 
0.43%
Morningstar Category™
 
India Equity
ISIN
 
IE0008369930
Fund Size (Mil)
25/06/2019
 
USD 535.92
Share Class Size (Mil)
25/06/2019
 
USD 270.63
Max Initial Charge
 
5.00%
Ongoing Charge
30/05/2019
 
1.91%
Analyst Report
We continue to have high conviction in First State Indian Subcontinent's lead manager and his well-codified approach. The fund retains its Morningstar Analyst Rating of Gold.Vinay Agarwal and Naren Gorthy are the named managers on this strategy,...
Click here to read this analyst report
Morningstar Pillars
People
Positive
Parent
Neutral
Process
Positive
Performance
Positive
Price
Neutral
Investment Objective: First State Indian Subcontnt I USD Acc
The fund aims to achieve long term capital growth. The fund will comprise a diversified portfolio of companies of the Indian subcontinent Countries of the Indian subcontinent include India, Pakistan, Sri Lanka and Bangladesh. The Fund concentrates on securities that are listed, traded or dealt in on Regulated Markets in the Indian subcontinent and offshore instruments issued by companies established or operating or have significant interests in the Indian subcontinent and listed on other Regulated Markets.
Returns
| | |
| --- | --- |
| Trailing Returns (EUR) | 25/06/2019 |
| YTD | 2.47 |
| 3 Years Annualised | 9.18 |
| 5 Years Annualised | 15.51 |
| 10 Years Annualised | 17.05 |
Management
Manager Name
Start Date
Vinay Agarwal
01/08/2012
Naren Gorthy
10/08/2017
Inception Date
23/08/1999
Benchmarks
Fund Benchmark
Morningstar Benchmark
MSCI India NR USD
MSCI India NR USD
Target Market
Role In Portfolio
Standalone / Core
Not Specific
Component
Not Specific
Other
Not Specific
Primary Objective
Preservation
No
Growth
Yes
Income
Not Specific
Hedging
Not Specific
Other
Not Specific
Portfolio Profile for  First State Indian Subcontnt I USD Acc
28/02/2019
Morningstar Style Box®
Equity Style
Asset Allocation
 
% Long
% Short
% Net Assets
Stocks
89.88
0.00
89.88
Bonds
0.00
0.00
0.00
Cash
10.12
0.00
10.12
Other
0.00
0.00
0.00
| | |
| --- | --- |
| Top 5 Regions | % |
| Asia - Emerging | 100.00 |
| United States | 0.00 |
| Canada | 0.00 |
| Latin America | 0.00 |
| United Kingdom | 0.00 |
Top 5 Sectors
%
Financial Services
24.99
Consumer Defensive
15.48
Basic Materials
11.90
Consumer Cyclical
11.82
Technology
10.01