Performance History
30/06/2014
Growth of 1,000 (EUR)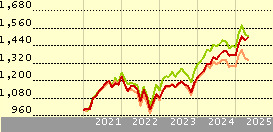 Fund
15.8
0.9
17.6
23.9
8.6
+/-Cat
4.2
11.9
-0.2
4.3
4.1
+/-Idx
4.7
9.0
0.3
4.1
2.5
 
Benchmarks: MSCI Europe NR USD
Key Stats
NAV
29/07/2014
 
EUR 15.69
Day Change
 
0.06%
Morningstar Category™
 
Europe Large-Cap Blend Equity
ISIN
 
LU0119753134
Fund Size (Mil)
30/06/2014
 
EUR 2983.89
Share Class Size (Mil)
29/07/2014
 
EUR 1155.26
Max Initial Charge
 
5.00%
Total Expense Ratio
28/02/2014
 
1.08%

*  This rating and report were issued for a different share class of this fund. The performance and fee structure of this class may vary from that referenced.
The fund uses a sound rules-based process that aims to identify low-volatility stocks with attractive fundamentals.



Invesco Pan European Structured Equity pursues an unconstrained approach with a focus on low-volatility stocks. However, it is...
Click here to read this analyst report
Investment Objective: Invesco Pan Eurp Structured Eq C
The objective of the Fund is to achieve long-term capital appreciation by investing at least two thirds of the total assets of the Fund (without taking into account ancillary liquid assets) in a diversified portfolio of equities of companies with their registered office in a European country or exercising their business activities predominantly in European countries which are listed on recognized European stock exchanges. Up to one third of the total assets of the Fund may be invested in aggregate in cash and cash equivalents, money market instruments or equity and equity related instruments issued by companies or other entities not meeting the above requirement.
Returns
| | |
| --- | --- |
| Trailing Returns | 29/07/2014 |
| YTD | 8.88 |
| 3 Years Annualised | 15.66 |
| 5 Years Annualised | 16.76 |
| 10 Years Annualised | 11.01 |
Management
Manager Name
Start Date
Michael Fraikin
28/06/2002
Thorsten Paarmann
30/03/2007
Inception Date
06/11/2000
Benchmarks
Fund Benchmark
Morningstar Benchmark
MSCI Europe NR EUR
MSCI Europe NR USD
Portfolio Profile for  Invesco Pan Eurp Structured Eq C
30/06/2014
Morningstar Style Box®
Equity Style
Asset Allocation
 
% Long
% Short
% Net Assets
Stocks
96.17
0.00
96.17
Bonds
0.00
0.00
0.00
Cash
8.54
7.42
1.12
Other
2.93
0.21
2.72
| | |
| --- | --- |
| Top 5 Regions | % |
| Eurozone | 37.75 |
| Europe - ex Euro | 36.98 |
| United Kingdom | 25.27 |
| United States | 0.00 |
| Japan | 0.00 |
Top 5 Sectors
%
No Data Available