Performance History
30/11/2017
Growth of 1,000 (EUR)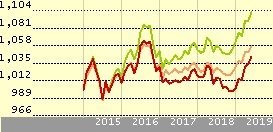 Fund
2.7
12.4
0.9
2.1
-0.3
+/-Cat
1.3
1.9
0.0
-0.3
-0.5
+/-Idx
0.5
-0.8
-0.7
-1.1
-1.3
 
Benchmarks: Citi EMU GBI EUR
Key Stats
NAV
11/12/2017
 
EUR 11.41
Day Change
 
0.09%
Morningstar Category™
 
EUR Government Bond
ISIN
 
LU0119435609
Fund Size (Mil)
30/11/2017
 
EUR 1167.89
Share Class Size (Mil)
11/12/2017
 
EUR 172.82
Max Initial Charge
 
-
Ongoing Charge
03/07/2017
 
0.44%

*  This rating and report were issued for a different share class of this fund. The performance and fee structure of this class may vary from that referenced.
Analyst Report
The fund's fees severely hinder its potential. The retail share class E, which accounts as of November 2016 for around 40% of the strategy's assets, charges 1.33% annually, compared with around 60 basis points for the Morningstar Category median...
Click here to read this analyst report
Morningstar Pillars
People
Neutral
Parent
Negative
Process
Neutral
Performance
Neutral
Price
Negative
Investment Objective: Pioneer Fds Euro Bond I EUR ND
This Sub-Fund seeks to achieve capital appreciation and income over the medium to long-term by investing primarily in a diversified portfolio consisting of euro denominated debt and debt-related instruments issued by European governments. The Sub-Fund may invest up to 30% in debt and debt-related instruments issued by companies incorporated, headquartered or having their principal business activities in Europe, denominated in euro or in any other freely convertible currency provided the underlying foreign exchange risk is principally hedged back to euro. The Sub-Fund will not invest in equities and equity-linked instruments or convertible securities.
Returns
| | |
| --- | --- |
| Trailing Returns | 11/12/2017 |
| YTD | 0.26 |
| 3 Years Annualised | 1.38 |
| 5 Years Annualised | 3.75 |
| 10 Years Annualised | 5.11 |
Management
Manager Name
Start Date
Cosimo Marasciulo
31/10/2010
Richard Casey
17/04/2017
Inception Date
17/01/2001
Benchmarks
Fund Benchmark
Morningstar Benchmark
JPM GBI EMU TR EUR
Citi EMU GBI EUR
Portfolio Profile for  Pioneer Fds Euro Bond I EUR ND
31/10/2017
Fixed Income
Effective Maturity
9.14
Effective Duration
6.74
Morningstar Style Box®
Fixed Income Style
Asset Allocation
 
% Long
% Short
% Net Assets
Stocks
0.00
0.00
0.00
Bonds
95.81
0.00
95.81
Cash
4.19
0.00
4.19
Other
0.00
0.00
0.00