Performance History
31/01/2018
Growth of 1,000 (EUR)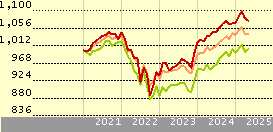 Fund
6.8
1.9
4.8
5.4
0.2
+/-Cat
2.5
0.2
3.1
2.9
-0.1
+/-Idx
-3.5
-1.4
1.4
2.1
0.2
 
Benchmarks: Cat 75%Barclays Eu Agg&25%F...
Key Stats
NAV
16/02/2018
 
EUR 20.40
Day Change
 
0.25%
Morningstar Category™
 
EUR Cautious Allocation
ISIN
 
LU0243957742
Fund Size (Mil)
31/01/2018
 
USD 14267.88
Share Class Size (Mil)
16/02/2018
 
EUR 2737.30
Max Initial Charge
 
3.00%
Ongoing Charge
14/02/2018
 
2.12%

*  This rating and report were issued for a different share class of this fund. The performance and fee structure of this class may vary from that referenced.
Analyst Report
We think Invesco Pan European High Income is a strong choice for investors. The fund is comanaged by Paul Read, Paul Causer, and Stephanie Butcher. Co-heads of fixed income at Invesco Perpetual, Read and Causer are two of the most experienced...
Click here to read this analyst report
Morningstar Pillars
People
Positive
Parent
Neutral
Process
Positive
Performance
Positive
Price
Neutral
Investment Objective: Invesco Pan European Hi Inc E EUR Acc
The Fund aims to provide to Shareholders long-term total return growth from an actively managed, diversified portfolio investing primarily in higher yielding European debt securities and, to a lesser extent, equities.
Returns
| | |
| --- | --- |
| Trailing Returns | 16/02/2018 |
| YTD | -1.11 |
| 3 Years Annualised | 2.31 |
| 5 Years Annualised | 5.65 |
| 10 Years Annualised | 8.11 |
Management
Manager Name
Start Date
Stephanie Butcher
29/02/2012
Paul Read
31/07/2008
Click here to see others
Inception Date
31/03/2006
Benchmarks
Fund Benchmark
Morningstar Benchmark
Mstar GIF OS EUR Cautious Alloc
Cat 75%Barclays Eu Agg&25%FTSE AW Dv Eur
Target Market
Role In Portfolio
Standalone / Core
Not Specific
Component
Not Specific
Other
Not Specific
Primary Objective
Preservation
Not Specific
Growth
Yes
Income
Yes
Hedging
Not Specific
Other
Not Specific
Portfolio Profile for  Invesco Pan European Hi Inc E EUR Acc
31/01/2018
Morningstar Style Box®
Equity Style
Morningstar Style Box®
Fixed Income Style

Asset Allocation
 
% Long
% Short
% Net Assets
Stocks
20.66
0.00
20.66
Bonds
58.42
0.27
58.15
Cash
41.03
28.83
12.20
Other
9.00
0.00
9.00
Fixed Income
Effective Maturity
5.89
Effective Duration
4.64

| | |
| --- | --- |
| Top 5 Regions | % |
| Eurozone | 68.90 |
| Europe - ex Euro | 25.43 |
| United Kingdom | 5.65 |
| United States | 0.01 |
| Canada | 0.00 |
Top 5 Sectors
%
Financial Services
27.52
Energy
13.41
Healthcare
12.10
Industrials
11.34
Consumer Defensive
8.64