Invesco Pan European Hi Inc E Acc
Performance History
31/10/2015
Growth of 1,000 (EUR)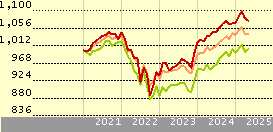 Fund
-3.5
26.3
12.2
6.8
3.5
+/-Cat
-0.7
18.4
7.6
2.5
1.0
+/-Idx
-4.0
13.3
5.6
-3.5
-0.7
 
Benchmarks: Cat 75%Barclays Eu Agg&25%F...
Key Stats
NAV
27/11/2015
 
EUR 19.05
Day Change
 
0.05%
Morningstar Category™
 
EUR Cautious Allocation
ISIN
 
LU0243957742
Fund Size (Mil)
30/10/2015
 
USD 7534.12
Share Class Size (Mil)
27/11/2015
 
EUR 2064.54
Max Initial Charge
 
3.00%
Ongoing Charge
19/02/2015
 
2.12%
Investment Objective: Invesco Pan European Hi Inc E Acc
The Fund aims to provide to Shareholders long-term total return growth from an actively managed, diversified portfolio investing primarily in higher yielding European, debt securities and to a lesser extent, equities. At least 70% of the total assets of the Fund (without taking into account ancillary liquid assets) shall be invested in European securities. The Fund will invest more than 50% of the total assets in European debt securities. Up to 30% of the total assets of the Fund may be invested in aggregate in cash and cash equivalents, money market instruments, equity and equity related securities issued by companies or other entities not meeting the above requirements or in debt securities (including convertible bonds) of issuers worldwide.
Returns
| | |
| --- | --- |
| Trailing Returns | 27/11/2015 |
| YTD | 3.87 |
| 3 Years Annualised | 8.39 |
| 5 Years Annualised | 8.88 |
| 10 Years Annualised | - |
Management
Manager Name
Start Date
Stephanie Butcher
29/02/2012
Paul Read
31/07/2008
Click here to see others
Inception Date
31/03/2006
Benchmarks
Fund Benchmark
Morningstar Benchmark
Mstar GIF OS EUR Cautious Alloc
Cat 75%Barclays Eu Agg&25%FTSE AW Dv Eur
Portfolio Profile for  Invesco Pan European Hi Inc E Acc
31/10/2015
Morningstar Style Box®
Equity Style
Morningstar Style Box®
Fixed Income Style

Asset Allocation
 
% Long
% Short
% Net Assets
Stocks
21.18
0.00
21.18
Bonds
60.34
0.00
60.34
Cash
47.83
33.35
14.48
Other
4.00
0.00
4.00
Fixed Income
Effective Maturity
0.00
Effective Duration
4.91

| | |
| --- | --- |
| Top 5 Regions | % |
| Eurozone | 70.39 |
| Europe - ex Euro | 27.43 |
| United Kingdom | 2.16 |
| United States | 0.02 |
| Japan | 0.00 |
Top 5 Sectors
%
Financial Services
27.65
Industrials
12.77
Energy
10.42
Communication Services
10.41
Consumer Cyclical
8.98