Performance History
30/06/2016
Growth of 1,000 (EUR)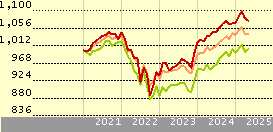 Fund
26.3
12.2
6.8
1.9
-0.4
+/-Cat
18.4
7.6
2.5
0.2
0.2
+/-Idx
13.3
5.6
-3.5
-1.4
-2.3
 
Benchmarks: Cat 75%Barclays Eu Agg&25%F...
Key Stats
NAV
26/07/2016
 
EUR 19.09
Day Change
 
-0.16%
Morningstar Category™
 
EUR Cautious Allocation
ISIN
 
LU0243957742
Fund Size (Mil)
30/06/2016
 
USD 7242.71
Share Class Size (Mil)
25/07/2016
 
EUR 1842.24
Max Initial Charge
 
3.00%
Ongoing Charge
28/04/2016
 
2.11%

*  This rating and report were issued for a different share class of this fund. The performance and fee structure of this class may vary from that referenced.
Analyst Report
We think this a strong choice for investors. 

The fund is comanaged by Paul Read, Paul Causer, and Stephanie Butcher. Co-heads of fixed income at Invesco Perpetual, Read and Causer are two of the most experienced fixed-income managers in the...
Click here to read this analyst report
Morningstar Pillars
People
Positive
Parent
Positive
Process
Positive
Performance
Positive
Price
Negative
Investment Objective: Invesco Pan European Hi Inc E Acc
The Fund aims to provide to Shareholders long-term total return growth from an actively managed, diversified portfolio investing primarily in higher yielding European debt securities and, to a lesser extent, equities.
Returns
| | |
| --- | --- |
| Trailing Returns | 26/07/2016 |
| YTD | 2.19 |
| 3 Years Annualised | 5.82 |
| 5 Years Annualised | 7.71 |
| 10 Years Annualised | 6.83 |
Management
Manager Name
Start Date
Stephanie Butcher
29/02/2012
Paul Read
31/07/2008
Click here to see others
Inception Date
31/03/2006
Benchmarks
Fund Benchmark
Morningstar Benchmark
Mstar GIF OS EUR Cautious Alloc
Cat 75%Barclays Eu Agg&25%FTSE AW Dv Eur
Portfolio Profile for  Invesco Pan European Hi Inc E Acc
30/06/2016
Morningstar Style Box®
Equity Style
Morningstar Style Box®
Fixed Income Style

Asset Allocation
 
% Long
% Short
% Net Assets
Stocks
20.27
0.00
20.27
Bonds
70.64
0.00
70.64
Cash
48.45
45.40
3.05
Other
6.26
0.22
6.04
Fixed Income
Effective Maturity
0.00
Effective Duration
6.07

| | |
| --- | --- |
| Top 5 Regions | % |
| Eurozone | 65.57 |
| Europe - ex Euro | 30.23 |
| United Kingdom | 4.17 |
| United States | 0.02 |
| Japan | 0.00 |
Top 5 Sectors
%
Financial Services
23.98
Energy
15.42
Healthcare
12.50
Industrials
11.89
Communication Services
9.78