Russell Inv Multi-Asset 70 E
Performance History
31/07/2022
Growth of 1,000 (EUR)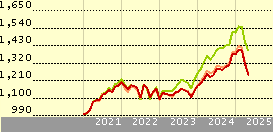 Fund
-4.1
22.6
2.2
20.1
-1.4
+/-Cat
0.3
1.8
1.9
-0.1
0.4
+/-Idx
-
-
-
-2.0
1.5
 
Benchmarks: Morningstar EAA USD Agg Tgt...
Key Stats
NAV
16/08/2022
 
USD 20.85
Day Change
 
0.20%
Morningstar Category™
 
USD Aggressive Allocation
ISIN
 
IE00B1G4PY10
Fund Size (Mil)
16/08/2022
 
USD 115.48
Share Class Size (Mil)
16/08/2022
 
USD 81.60
Max Initial Charge
 
5.00%
Ongoing Charge
01/10/2021
 
1.17%
Investment Objective: Russell Inv Multi-Asset 70 E
The Russell Investments Multi-Asset 70 Fund's investment objective is to generate long-term capital appreciation while maintaining a moderate level of risk control. The Fund will seek to achieve this objective by investing predominantly in other Regulated Collective Investment Schemes that invest in equities, fixed income securities and alternative asset classes (being asset classes other than equity and fixed income, including cash). Approximately 70 per cent of the Fund's Net Asset Value will be invested in growth assets.
Returns
| | |
| --- | --- |
| Trailing Returns (EUR) | 16/08/2022 |
| YTD | 1.27 |
| 3 Years Annualised | 10.39 |
| 5 Years Annualised | 8.44 |
| 10 Years Annualised | 8.73 |
Management
Manager Name
Start Date
Thomas McDonald
01/07/2016
Alain Zeitouni
01/10/2020
Inception Date
04/12/2006
Benchmarks
Fund Benchmark
Morningstar Benchmark
Morningstar USD Aggressive Median
Morningstar EAA USD Agg Tgt Alloc NR USD
Target Market
Role In Portfolio
Standalone / Core
Not Specific
Component
Not Specific
Other
Not Specific
Primary Objective
Preservation
No
Growth
Yes
Income
No
Hedging
No
Other
Not Specific
Portfolio Profile for  Russell Inv Multi-Asset 70 E
31/07/2022
Morningstar Style Box®
Equity Style
Morningstar Style Box®
Fixed Income Style

Asset Allocation
 
% Long
% Short
% Net Assets
Stocks
61.18
0.59
60.59
Bonds
24.11
6.02
18.09
Cash
12.18
1.35
10.83
Other
10.49
0.00
10.49
Fixed Income
Effective Maturity
-
Effective Duration
-

| | |
| --- | --- |
| Top 5 Regions | % |
| United States | 44.70 |
| Japan | 12.13 |
| Eurozone | 9.25 |
| United Kingdom | 8.10 |
| Asia - Emerging | 7.44 |
Top 5 Sectors
%
Financial Services
15.08
Technology
15.07
Industrials
11.57
Healthcare
10.79
Consumer Cyclical
10.62