Performance History
31/01/2020
Growth of 1,000 (EUR)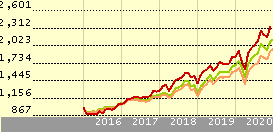 Fund
6.2
20.2
9.6
31.8
5.1
+/-Cat
0.7
8.7
8.4
-3.0
1.6
+/-Idx
-4.0
5.8
6.1
-7.1
1.6
 
Benchmarks: Russell 1000 Growth TR USD
Key Stats
NAV
28/02/2020
 
USD 40.58
Day Change
 
-4.80%
Morningstar Category™
 
US Large-Cap Growth Equity
ISIN
 
LU0284523734
Fund Size (Mil)
28/02/2020
 
USD 2191.00
Share Class Size (Mil)
28/02/2020
 
USD 211.19
Max Initial Charge
 
-
Ongoing Charge
14/02/2020
 
0.02%

*  This rating and report were issued for a different share class of this fund. The performance and fee structure of this class may vary from that referenced.
Analyst Report
T. Rowe Price US Large Cap Growth Equity maintains an edge, earning a Morningstar Analyst Rating of Silver.Manager Taymour Tamaddon has adjusted well to his first diversified charge, which he's run since January 2017. He got up to speed quickly...
Click here to read this analyst report
Morningstar Pillars
People
Positive
Parent
Positive
Process
Positive
Performance
Neutral
Price
Positive
Investment Objective: T. Rowe Price US Lg Cap Gr Eq J USD
The Fund's objective is to provide long term capital appreciation by investing primarily in a diversified portfolio of the transferable equity and equity-related securities of large US companies. The Fund will emphasise investment in companies that have the potential for above average and sustainable rates of earnings growth.
Returns
| | |
| --- | --- |
| Trailing Returns (EUR) | 28/02/2020 |
| YTD | -4.58 |
| 3 Years Annualised | 15.28 |
| 5 Years Annualised | 13.77 |
| 10 Years Annualised | 18.63 |
Management
Manager Name
Start Date
Taymour Tamaddon
01/01/2017
Inception Date
20/02/2007
Benchmarks
Fund Benchmark
Morningstar Benchmark
Russell 1000 Growth Net 30%
Russell 1000 Growth TR USD
Target Market
Role In Portfolio
Standalone / Core
Not Specific
Component
Not Specific
Other
Not Specific
Primary Objective
Preservation
Not Specific
Growth
Yes
Income
Not Specific
Hedging
Not Specific
Other
Not Specific
Portfolio Profile for  T. Rowe Price US Lg Cap Gr Eq J USD
31/12/2019
Morningstar Style Box®
Equity Style
Asset Allocation
 
% Long
% Short
% Net Assets
Stocks
99.29
0.00
99.29
Bonds
0.00
0.00
0.00
Cash
0.71
0.00
0.71
Other
0.00
0.00
0.00
| | |
| --- | --- |
| Top 5 Regions | % |
| United States | 91.59 |
| Asia - Emerging | 6.35 |
| Eurozone | 1.40 |
| Canada | 0.55 |
| Latin America | 0.11 |
Top 5 Sectors
%
Technology
23.90
Communication Services
20.86
Consumer Cyclical
17.79
Healthcare
14.83
Industrials
8.48