Performance History
30/09/2019
Growth of 1,000 (EUR)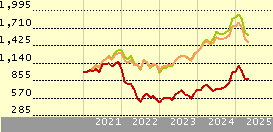 Fund
24.3
5.4
16.1
6.9
28.8
+/-Cat
9.8
-0.2
4.6
5.7
2.0
+/-Idx
6.6
-4.9
1.7
3.4
-0.4
 
Benchmarks: Russell 1000 Growth TR USD
Key Stats
NAV
17/10/2019
 
USD 102.48
Day Change
 
0.13%
Morningstar Category™
 
US Large-Cap Growth Equity
ISIN
 
LU0360484686
Fund Size (Mil)
17/10/2019
 
USD 8532.35
Share Class Size (Mil)
17/10/2019
 
USD 2419.87
Max Initial Charge
 
1.00%
Ongoing Charge
17/07/2019
 
0.85%
Analyst Report
MS INVF US Advantage has used its tool kit well, resulting in a Morningstar Analyst Rating of Silver.Dennis Lynch has built a long-tenured team that's thoughtfully planning for the future. While no immediate departures are anticipated, the team...
Click here to read this analyst report
Morningstar Pillars
People
Positive
Parent
Neutral
Process
Positive
Performance
Positive
Price
Neutral
Investment Objective: MS INVF US Advantage Z
The US Advantage Fund's investment objective is to seek long-term capital appreciation, measured in US Dollars, by investing primarily in securities issued by US companies and on an ancillary basis in securities issued by companies that are not from the US. An issuer may be considered to be from a particular country (including the US) or geographic region if (i) its principal securities trading market is in that country or geographic region; (ii) alone or on a consolidated basis it derives 50% or more of its annual revenue from goods produced, sales made or services performed in that country or geographic region; or (iii) it is organized under the laws of, or has a principal office in, that country or geographic region.
Returns
| | |
| --- | --- |
| Trailing Returns (EUR) | 17/10/2019 |
| YTD | 26.94 |
| 3 Years Annualised | 17.47 |
| 5 Years Annualised | 18.81 |
| 10 Years Annualised | 18.80 |
Management
Manager Name
Start Date
Dennis Lynch
22/06/2009
Alexander Norton
22/06/2009
Click here to see others
Inception Date
05/09/2008
Benchmarks
Fund Benchmark
Morningstar Benchmark
S&P 500 TR USD
Russell 1000 Growth TR USD
Target Market
Role In Portfolio
Standalone / Core
Not Specific
Component
Not Specific
Other
Not Specific
Primary Objective
Preservation
Not Specific
Growth
Yes
Income
Yes
Hedging
Not Specific
Other
Not Specific
Portfolio Profile for  MS INVF US Advantage Z
30/09/2019
Morningstar Style Box®
Equity Style
Asset Allocation
 
% Long
% Short
% Net Assets
Stocks
95.93
0.00
95.93
Bonds
0.00
0.00
0.00
Cash
4.38
0.00
4.38
Other
0.00
0.31
-0.31
| | |
| --- | --- |
| Top 5 Regions | % |
| United States | 88.55 |
| Canada | 5.74 |
| Eurozone | 3.43 |
| Latin America | 2.29 |
| United Kingdom | 0.00 |
Top 5 Sectors
%
Technology
38.80
Consumer Cyclical
28.18
Industrials
11.57
Healthcare
11.40
Basic Materials
5.54