Performance History
31/10/2019
Growth of 1,000 (EUR)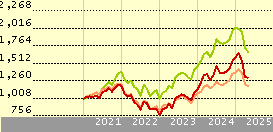 Fund
19.9
14.4
29.5
7.8
30.5
+/-Cat
5.6
4.0
9.0
12.2
1.9
+/-Idx
3.2
-0.3
8.1
5.4
-7.3
 
Benchmarks: MSCI World/Information Tech...
Key Stats
NAV
08/11/2019
 
USD 51.65
Day Change
 
0.47%
Morningstar Category™
 
Sector Equity Technology
ISIN
 
IE00B42NVC37
Fund Size (Mil)
08/11/2019
 
USD 3349.78
Share Class Size (Mil)
08/11/2019
 
USD 2228.42
Max Initial Charge
 
5.00%
Ongoing Charge
18/02/2019
 
1.16%
Analyst Report
Polar Capital Global Technology benefits from an experienced lead manager backed by a well-resourced team. They have continued to demonstrate consistency in their established approach and strength in their thematic and stock-specific analysis....
Click here to read this analyst report
Morningstar Pillars
People
High
Parent
Above Average
Process
Above Average
Performance
Price
Investment Objective: Polar Capital Global Tech I Inc
The investment objective of the Fund is long term capital appreciation by way of investing in a globally diversified portfolio of technology companies. Although the Fund may receive income in the form of dividends, interest and from other sources, income is not a primary consideration. The Fund will invest at least two thirds of its total assets in technology-related companies worldwide. The Fund will take a geographically diversified approach and operate within broad asset allocation ranges, but there are no specified limits on investing in any geographical region or single country.
Returns
| | |
| --- | --- |
| Trailing Returns (EUR) | 08/11/2019 |
| YTD | 34.81 |
| 3 Years Annualised | 24.76 |
| 5 Years Annualised | 21.75 |
| 10 Years Annualised | 20.68 |
| | | |
| --- | --- | --- |
| 12 Month Yield |   | 0.00 |
| Dividend Paying Frequency |   | Annually |
Management
Manager Name
Start Date
Nick Evans
19/10/2001
Ben Rogoff
19/10/2001
Click here to see others
Inception Date
04/09/2009
Benchmarks
Fund Benchmark
Morningstar Benchmark
DJ Global Technology TR USD
MSCI World/Information Tech NR USD
Target Market
Role In Portfolio
Standalone / Core
Not Specific
Component
Not Specific
Other
Not Specific
Primary Objective
Preservation
No
Growth
Yes
Income
No
Hedging
No
Other
Not Specific
Portfolio Profile for  Polar Capital Global Tech I Inc
30/09/2019
Morningstar Style Box®
Equity Style
Asset Allocation
 
% Long
% Short
% Net Assets
Stocks
96.51
3.01
93.49
Bonds
0.00
0.00
0.00
Cash
7.34
0.83
6.51
Other
0.00
0.00
0.00
| | |
| --- | --- |
| Top 5 Regions | % |
| United States | 76.25 |
| Asia - Emerging | 7.28 |
| Japan | 7.12 |
| Asia - Developed | 6.14 |
| Eurozone | 2.44 |
Top 5 Sectors
%
Technology
86.35
Consumer Cyclical
6.57
Financial Services
3.72
Industrials
2.25
Healthcare
0.59