Robeco Global Consumer Trends Eqs I €
Performance History
31/10/2021
Growth of 1,000 (EUR)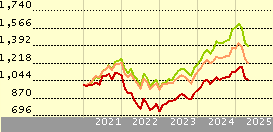 Fund
22.3
1.2
37.8
37.3
12.1
+/-Cat
9.8
7.0
6.2
20.2
-8.3
+/-Idx
8.1
4.7
2.6
14.7
-10.8
 
Benchmarks: MSCI ACWI Growth NR USD
Key Stats
NAV
24/11/2021
 
EUR 605.33
Day Change
 
1.13%
Morningstar Category™
 
Global Large-Cap Growth Equity
ISIN
 
LU0717821077
Fund Size (Mil)
24/11/2021
 
EUR 8486.76
Share Class Size (Mil)
31/10/2021
 
EUR 993.54
Max Initial Charge
 
0.50%
Ongoing Charge
10/03/2021
 
0.93%
Analyst Report
An expert duo and a proven process drive our conviction in Robeco Global Consumer Trends, It earns a Morningstar Analyst Rating of Silver for its cheaper share classes, while more expensive ones are rated Bronze. Portfolio managers Jack Neele...
Click here to read this analyst report
Morningstar Pillars
People
Above Average
Parent
Above Average
Process
High
Performance
Price
Investment Objective: Robeco Global Consumer Trends Eqs I €
The aim of the Sub-fund is to provide long term capital growth while at the same time promoting certain ESG (i.e. Environmental, Social and corporate Governance) characteristics and integrating sustainability risks in the investment process.
Returns
| | |
| --- | --- |
| Trailing Returns (EUR) | 24/11/2021 |
| YTD | 15.20 |
| 3 Years Annualised | 27.66 |
| 5 Years Annualised | 22.03 |
| 10 Years Annualised | - |
Management
Manager Name
Start Date
Jack Neele
01/07/2007
Richard Speetjens
01/12/2010
Inception Date
13/12/2011
Benchmarks
Fund Benchmark
Morningstar Benchmark
MSCI ACWI NR EUR
MSCI ACWI Growth NR USD
Target Market
Role In Portfolio
Standalone / Core
Not Specific
Component
Not Specific
Other
Not Specific
Primary Objective
Preservation
Not Specific
Growth
Yes
Income
Yes
Hedging
Not Specific
Other
Not Specific
Portfolio Profile for  Robeco Global Consumer Trends Eqs I €
30/09/2021
Morningstar Style Box®
Equity Style
Asset Allocation
 
% Long
% Short
% Net Assets
Stocks
99.08
0.00
99.08
Bonds
0.00
0.00
0.00
Cash
9.13
8.15
0.98
Other
0.00
0.06
-0.06
| | |
| --- | --- |
| Top 5 Regions | % |
| United States | 64.75 |
| Eurozone | 14.20 |
| Asia - Emerging | 7.81 |
| Europe - ex Euro | 5.90 |
| Latin America | 2.30 |
Top 5 Sectors
%
Consumer Cyclical
28.30
Technology
21.10
Communication Services
21.02
Consumer Defensive
13.94
Financial Services
6.60