Performance History
31/10/2019
Growth of 1,000 (EUR)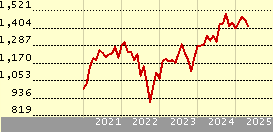 Fund
-12.8
-1.6
13.4
-16.8
14.0
+/-Cat
-
-
-
-
-
+/-Idx
-
-
-
-
-
 
Benchmarks: -
Key Stats
NAV
12/11/2019
 
GBP 126.17
Day Change
 
0.29%
Morningstar Category™
 
Other Equity
ISIN
 
LU0956908668
Fund Size (Mil)
12/11/2019
 
USD 380.66
Share Class Size (Mil)
12/11/2019
 
USD 0.91
Max Initial Charge
 
-
Ongoing Charge
19/02/2019
 
1.90%

*  This rating and report were issued for a different share class of this fund. The performance and fee structure of this class may vary from that referenced.
Analyst Report
For those seeking a pure value approach and who have a higher tolerance to volatility, there is much to like about this strategy. It has been managed by Nick Kirrage, Kevin Murphy, and Andrew Lyddon since launch in October 2013. Kirrage and...
Click here to read this analyst report
Morningstar Pillars
People
Positive
Parent
Positive
Process
Positive
Performance
Neutral
Price
Negative
Investment Objective: Schroder ISF Glbl Rcvy A Acc GBP Hdg
At least two-thirds of the Fund's assets (excluding cash) will invest in equity and equity related securities of companies worldwide that have suffered a severe set back in either share price or profitability, but where long term prospects are believed to be good. The Investment Manager will invest in a select portfolio of securities and will not be restricted by size or sector. The Fund may invest directly in China B-Shares and China H-Shares and may invest up to 10% of its assets in China A-Shares through Shanghai-Hong Kong Stock Connect.
Returns
| | |
| --- | --- |
| Trailing Returns (EUR) | 12/11/2019 |
| YTD | 17.71 |
| 3 Years Annualised | 4.91 |
| 5 Years Annualised | -0.06 |
| 10 Years Annualised | - |
Management
Manager Name
Start Date
Nick Kirrage
09/10/2013
Andrew Lyddon
09/10/2013
Click here to see others
Inception Date
09/10/2013
Benchmarks
Fund Benchmark
Morningstar Benchmark
MSCI World NR USD
-
Target Market
Role In Portfolio
Standalone / Core
Not Specific
Component
Not Specific
Other
Not Specific
Primary Objective
Preservation
Not Specific
Growth
Yes
Income
Not Specific
Hedging
Not Specific
Other
Not Specific
Portfolio Profile for  Schroder ISF Glbl Rcvy A Acc GBP Hdg
31/07/2019
Morningstar Style Box®
Equity Style
Asset Allocation
 
% Long
% Short
% Net Assets
Stocks
91.07
0.00
91.07
Bonds
0.00
0.00
0.00
Cash
9.91
0.98
8.93
Other
0.00
0.00
0.00
| | |
| --- | --- |
| Top 5 Regions | % |
| Eurozone | 28.09 |
| United Kingdom | 23.54 |
| United States | 20.26 |
| Asia - Developed | 8.86 |
| Europe - ex Euro | 4.73 |
Top 5 Sectors
%
Financial Services
31.46
Technology
13.70
Basic Materials
13.44
Energy
13.42
Consumer Cyclical
11.26