Performance History
30/11/2019
Growth of 1,000 (EUR)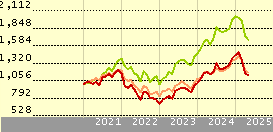 Fund
15.8
9.1
33.5
4.7
43.2
+/-Cat
1.5
-1.4
13.0
9.1
8.1
+/-Idx
-0.9
-5.7
12.1
2.4
-3.7
 
Benchmarks: MSCI World/Information Tech...
Key Stats
NAV
11/12/2019
 
USD 39.94
Day Change
 
0.06%
Morningstar Category™
 
Sector Equity Technology
ISIN
 
LU0056508442
Fund Size (Mil)
29/11/2019
 
USD 2110.36
Share Class Size (Mil)
11/12/2019
 
USD 1015.75
Max Initial Charge
 
5.00%
Ongoing Charge
11/02/2019
 
1.83%

*  This rating and report were issued for a different share class of this fund. The performance and fee structure of this class may vary from that referenced.
Analyst Report
Strong conviction in a skilled industry veteran's specialised process earns BGF World Technology a Morningstar Analyst Rating of Silver.Portfolio manager Tony Kim is a seasoned analyst and manager. He's spent 23 years analysing tech names, and he...
Click here to read this analyst report
Morningstar Pillars
People
Positive
Parent
Positive
Process
Positive
Performance
Positive
Price
Negative
Investment Objective: BGF World Technology A2
The World Technology Fund seeks to maximise total return. The Fund invests globally at least 70% of its total assets in the equity securities of companies whose predominant economic activity is in the technology sector.
Returns
| | |
| --- | --- |
| Trailing Returns (EUR) | 11/12/2019 |
| YTD | 40.66 |
| 3 Years Annualised | 24.84 |
| 5 Years Annualised | 20.68 |
| 10 Years Annualised | 17.18 |
Management
Manager Name
Start Date
Tony Kim
03/07/2017
Inception Date
03/03/1995
Benchmarks
Fund Benchmark
Morningstar Benchmark
MSCI ACWI/Information Technology NR USD
MSCI World/Information Tech NR USD
Target Market
Role In Portfolio
Standalone / Core
Not Specific
Component
Not Specific
Other
Not Specific
Primary Objective
Preservation
Not Specific
Growth
Yes
Income
Yes
Hedging
Not Specific
Other
Not Specific
Portfolio Profile for  BGF World Technology A2
31/08/2019
Morningstar Style Box®
Equity Style
Asset Allocation
 
% Long
% Short
% Net Assets
Stocks
92.78
0.17
92.61
Bonds
0.00
0.00
0.00
Cash
6.05
0.13
5.92
Other
1.47
0.00
1.47
| | |
| --- | --- |
| Top 5 Regions | % |
| United States | 65.08 |
| Asia - Emerging | 14.11 |
| Eurozone | 5.92 |
| Latin America | 5.91 |
| Asia - Developed | 1.92 |
Top 5 Sectors
%
Technology
79.76
Consumer Cyclical
10.81
Financial Services
5.03
Communication Services
2.78
Industrials
1.51