Performance History
30/11/2019
Growth of 1,000 (EUR)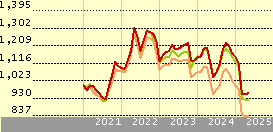 Fund
-11.8
17.9
4.2
-4.7
3.9
+/-Cat
2.0
2.6
5.3
0.6
5.5
+/-Idx
-1.5
-2.6
-4.9
0.0
-1.7
 
Benchmarks: MSCI Indonesia NR IDR
Key Stats
NAV
11/12/2019
 
USD 27.99
Day Change
 
-0.39%
Morningstar Category™
 
Indonesia Equity
ISIN
 
LU0055114457
Fund Size (Mil)
30/11/2019
 
USD 296.84
Share Class Size (Mil)
11/12/2019
 
USD 275.47
Max Initial Charge
 
5.25%
Ongoing Charge
26/09/2019
 
1.94%

*  This rating and report were issued for a different share class of this fund. The performance and fee structure of this class may vary from that referenced.
Analyst Report
Although we believe that Madeleine Kuang is a reasonable replacement following Gillian Kwek's surprise retirement, this is her first stint as a portfolio manager. She has brought some positive changes to the process, but it is still unproven. We...
Click here to read this analyst report
Morningstar Pillars
People
Neutral
Parent
Positive
Process
Neutral
Performance
Neutral
Price
Negative
Investment Objective: Fidelity Indonesia A-Dis-USD
The fund invests principally in Indonesian equity securities. Indonesia is considered to be an emerging market.
Returns
| | |
| --- | --- |
| Trailing Returns (EUR) | 11/12/2019 |
| YTD | 5.96 |
| 3 Years Annualised | 1.07 |
| 5 Years Annualised | 2.38 |
| 10 Years Annualised | 7.42 |
| | | |
| --- | --- | --- |
| 12 Month Yield |   | 0.00 |
| Dividend Paying Frequency |   | Annually |
Management
Manager Name
Start Date
Madeleine Kuang
01/06/2018
Inception Date
05/12/1994
Benchmarks
Fund Benchmark
Morningstar Benchmark
MSCI Indonesia IMI Capped at 8%
MSCI Indonesia NR IDR
Target Market
Role In Portfolio
Standalone / Core
Not Specific
Component
Not Specific
Other
Not Specific
Primary Objective
Preservation
Not Specific
Growth
Yes
Income
Not Specific
Hedging
Not Specific
Other
Not Specific
Portfolio Profile for  Fidelity Indonesia A-Dis-USD
31/10/2019
Morningstar Style Box®
Equity Style
Asset Allocation
 
% Long
% Short
% Net Assets
Stocks
95.15
0.00
95.15
Bonds
0.00
0.00
0.00
Cash
4.85
0.00
4.85
Other
0.00
0.00
0.00
| | |
| --- | --- |
| Top 5 Regions | % |
| Asia - Emerging | 97.05 |
| Asia - Developed | 2.95 |
| United States | 0.00 |
| Canada | 0.00 |
| Latin America | 0.00 |
Top 5 Sectors
%
Financial Services
36.38
Consumer Defensive
14.13
Consumer Cyclical
12.93
Communication Services
12.63
Industrials
7.85