Vanguard FTSE All-World UCITS ETF (EUR) | VWRL
Performance History
30/04/2022
Growth of 1,000 (EUR)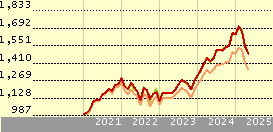 Fund
-
-
6.0
28.9
-5.4
+/-Cat
-
-
1.3
3.1
1.9
+/-Idx
-
-
-0.7
1.4
0.8
 
Benchmarks: MSCI ACWI NR USD
Key Stats
Closing Price
27/05/2022
 
EUR 100.38
Day Change
 
1.73%
Morningstar Category™
 
Global Large-Cap Blend Equity
Volume
 
1668
Exchange
 
BORSA ITALIANA S.P.A.
ISIN
 
IE00B3RBWM25
Fund Size (Mil)
27/05/2022
 
USD 13473.21
Share Class Size (Mil)
27/05/2022
 
USD 8506.26
Ongoing Charge
15/02/2022
 
0.22%

*  This rating and report were issued for a different share class of this fund. The performance and fee structure of this class may vary from that referenced.
Investment Objective: Vanguard FTSE All-World UCITS ETF (EUR) | VWRL
This Fund seeks to provide long-term growth of capital by tracking the performance of the Index, a market-capitalisation weighted index of common stocks of large and mid cap companies in developed and emerging countries.
Returns
| | |
| --- | --- |
| Trailing Returns (EUR) | 27/05/2022 |
| YTD | -8.34 |
| 3 Years Annualised | 12.44 |
| 5 Years Annualised | - |
| 10 Years Annualised | - |
| | | |
| --- | --- | --- |
| 12 Month Yield |   | - |
| Dividend Paying Frequency |   | |
Management
Manager Name
Start Date
Not Disclosed
22/05/2012
Inception Date
22/05/2012
Benchmarks
Fund Benchmark
Morningstar Benchmark
FTSE All World TR USD
MSCI ACWI NR USD
Target Market
Role In Portfolio
Standalone / Core
Not Specific
Component
Not Specific
Other
Not Specific
Primary Objective
Preservation
No
Growth
Yes
Income
Yes
Hedging
Not Specific
Other
Not Specific
Portfolio Profile for  Vanguard FTSE All-World UCITS ETF (EUR) | VWRL
30/04/2022
Morningstar Style Box®
Equity Style
Asset Allocation
 
% Long
% Short
% Net Assets
Stocks
100.04
0.07
99.96
Bonds
0.00
0.00
0.00
Cash
0.00
0.00
0.00
Other
0.04
0.00
0.04
| | |
| --- | --- |
| Top 5 Regions | % |
| United States | 58.71 |
| Eurozone | 7.73 |
| Japan | 6.08 |
| Asia - Emerging | 5.99 |
| Europe - ex Euro | 4.73 |
Top 5 Sectors
%
Technology
19.92
Financial Services
16.00
Healthcare
12.32
Consumer Cyclical
10.80
Industrials
9.77