The global menu of thematic funds has expanded in number and breadth like never before. These funds attempt to harness secular growth themes, such as technology themes like artificial intelligence, generational trends like those exhibited by Generation Z, and physical world themes like renewable energy or climate change.
Since early 2020, asset managers have ramped up the supply of these niche (and occasionally gimmicky strategies). Investors demand greater clarity with respect to how these funds are built and how they might (or might not) fit within their portfolios has increased commensurately.
At the end of December 2021, there were 1,952 surviving funds in Morningstar's global database that fit our definition of thematic. In the trailing three years to the end of 2021, these funds' assets under management grew nearly threefold to $806 billion from $255 billion worldwide.
At the end of 2021, global thematic fund assets represented 2.7% of all assets invested in equity funds globally, up from 0.8% 10 years ago.
As assets have poured into thematic funds, the menu has broadened. A record 589 new thematic funds debuted globally in 2021, more than double the previous record of 271 funds launched in 2020.
We detail these findings in our latest Global Thematic Funds Landscape. Below, we explore some key findings from the report.
Technology Dominates Oz
The Australian thematic fund market accounted for $2.6 billion of global thematic fund assets at the end of 2021.
From 2016 to 2019, there was a lull in demand for thematic funds. Assets under management stagnated in this period. Inflows into thematic funds have surged since 2020, as ETF providers have been launching unique products, some of which have seen strong uptake from investors. Technology funds managed to secure most of the inflows.
Most notable new launches have fallen under the broad theme of technology, including VanEck Vectors Video Gaming and eSports ETF, BetaShares Cloud Computing ETF, and BetaShares Crypto Innovators ETF. Other trendy newer funds follow sustainability, energy transition, and climate innovation themes.
Australia thematic fund assets under management growth by broad theme (US$ Million)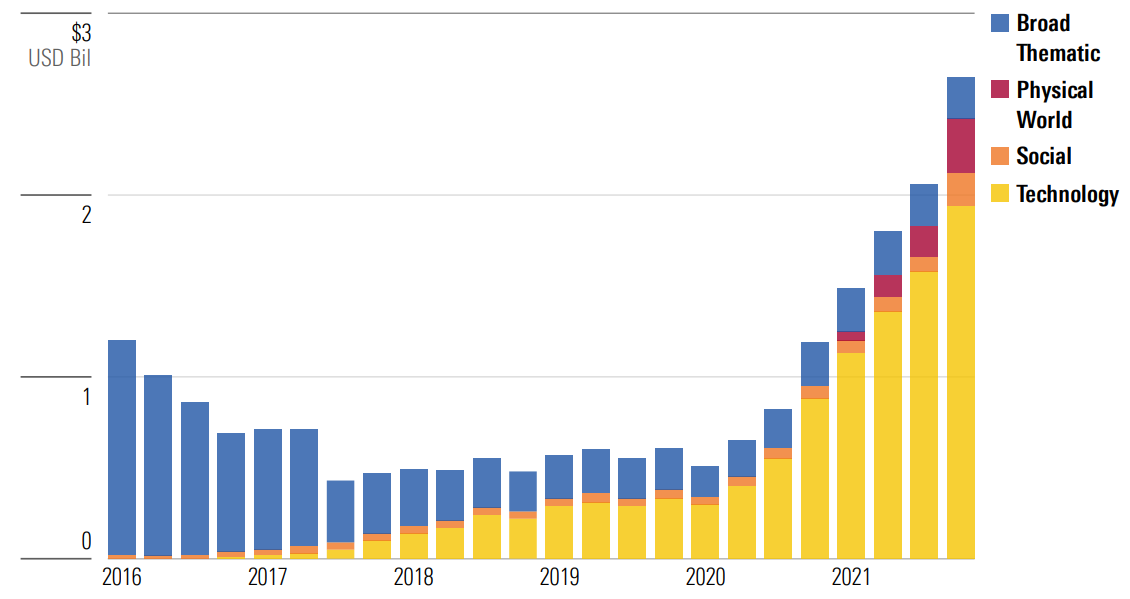 Source: Morningstar Research. Data as of 31 December 2021
Passive Over Active
Actively managed funds accounted for around two thirds of assets invested in thematic funds in the combined Rest of World markets as of end-2021. However, the active/passive split was very different across markets.
Actively managed thematic funds dominate the market in Japan and India, accounting for about 98% of assets in both cases. Meanwhile, in Australia, China, Hong Kong, and South Korea, passively managed thematic funds accounted for 55%-80% of assets, mainly invested in ETFs. In China, many of these indexed thematic offerings were new additions to the local menu in 2021.
'Rest of World' active versus passive thematic assets under management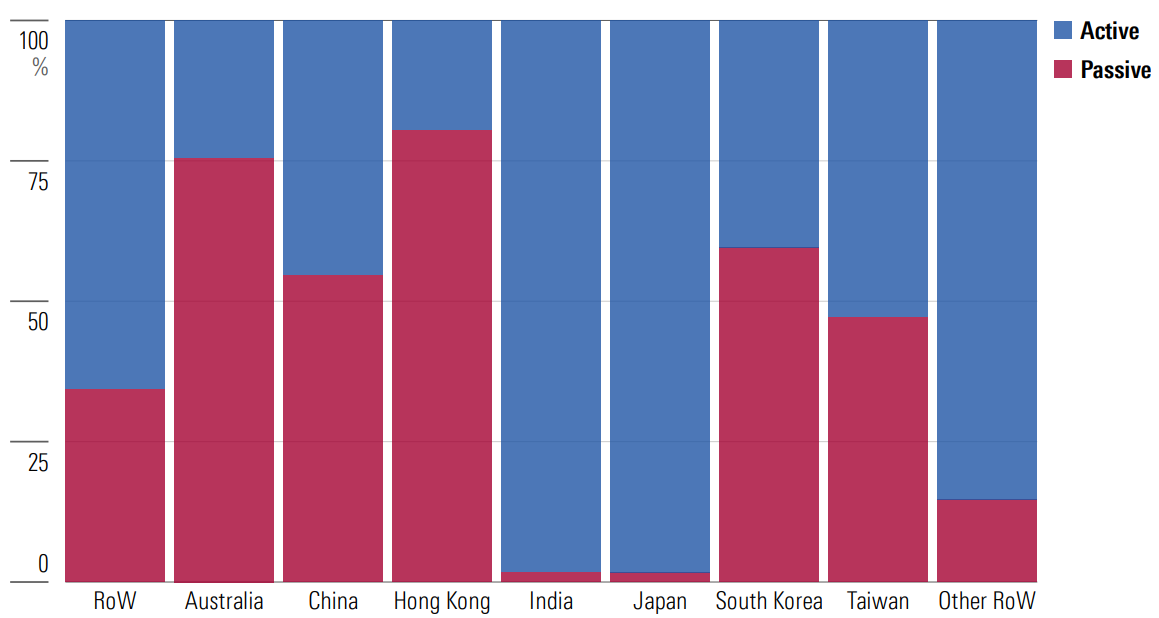 Source: Morningstar Research. Data as of 31 December 2021
Tech Funds Seize The Imagination
Funds tracking technology themes secured the largest share of flows over 2021, at which point they held half of assets in thematic funds globally.
Funds tracking multiple technology themes, with $105 billion in assets, represent the most popular thematic grouping globally. Funds in this cohort include the largest thematic fund globally: ARKK. This dazzlingly popular actively managed ETF targets a range of technology themes including genomics, fintech, and next generation internet.
With $98 billion in assets tied to it, energy transition is by a whisker the second-most-popular theme globally. The grouping, largely populated by alternative energy funds, got a huge boost in late 2020 when newly elected US President Joe Biden pledged billions of dollars of government support for green infrastructure.
Global thematic assets under management by theme (US$ Billion)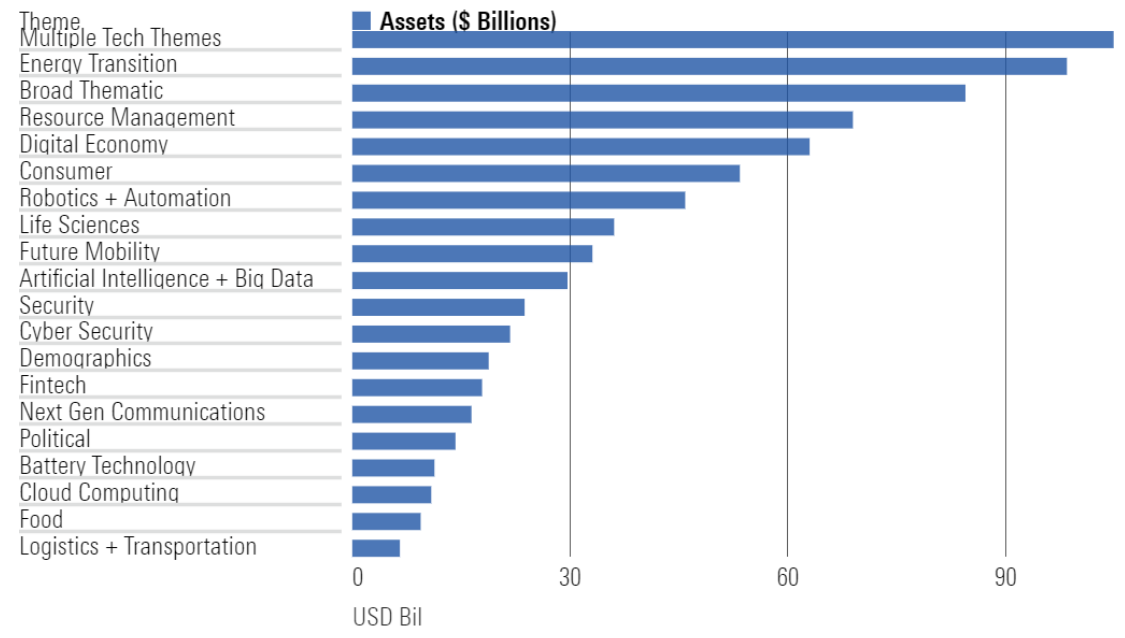 Source: Morningstar Research. Data as of 31 December 2021.
A US Bull-Market Phenomenon
After an explosive 2020, assets in US thematic funds stabilised in 2021 despite a record-breaking number of launches. In mid-2021, total assets under management topped out at more than $180 billion, but inflows had already begun to slow.
Assets flowing into US thematic funds increased dramatically throughout 2020 and peaked in the first quarter of 2021 at around $36 billion. Net inflows were below $5 billion in each of the remaining three quarters of 2021. At the end of 2021, US-domiciled thematic funds held a combined $165 billion.
Historically, thematic fund launches have tended to move in cycles. New strategies are often introduced during periods of strong performance, like the new millennium and the mid-2000s. But they tend to wane during downturns. Those trends indicate that investors' appetites for these strategies and the desire for providers to offer them typically move in sync with the broader market.
Thematic fund launches are a bull-market phenomenon. The hoard of new thematic funds introduced over the past several years further supports this connection. The second half of 2020 witnessed nearly as many launches as the entirety of 2019, and 2021 was another record year with 90 new launches. Nearly half of these new launches came to market in the fourth quarter of 2021.
US Thematics Underperformed in 2021
In 2021, more than two thirds of thematic funds underperformed the Morningstar Global Markets Index. This is a sharp reversal from their stellar showing in 2020, highlighting the volatility that goes hand in hand with thematic investing.
Over longer periods, these funds have generally performed poorly versus broad market indexes. A supportive market for growth strategies has seen thematic funds generally perform well over the trailing three years, but their success rate tumbles as we go further back in time.
Over the 10 years through the end of 2021, nearly 60% of US thematic funds shuttered, and just 22% both survived and outperformed the Morningstar Global Markets Index. The exhibit below details the dismal odds facing investors in selecting a thematic fund that will succeed.
Chasing Shiny Things
Thematic funds have captured investors' imagination, but buyers should beware. They are often designed more with saleability in mind than suitability. Many cross the border into gimmick territory.
Examples abound. Whiskey ETF, The Kids Fund, and StockJungle.com Pure Play Internet are just a few that have come and gone over the years. Investors have often piled into these funds at precisely the wrong time, only to be disappointed. Investors mulling thematic ETFs should think long and hard about whether a particular theme has long-term merit.
More on thematic funds from Morningstar: