Performance History
30/09/2009
Growth of 1,000 (EUR)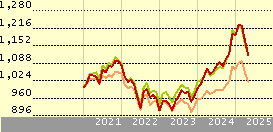 Fund
-
-
-
-31.8
25.2
+/-Cat
-
-
-
-10.5
-
+/-Idx
-
-
-
-3.6
-
 
Benchmarks: TReuters Global CB TR USD
Key Stats
NAV
09/10/2009
 
USD 8.64
Day Change
 
0.39%
Morningstar Category™
 
Convertible Bond - Global
ISIN
 
IE00B296W735
Fund Size (Mil)
25/06/2019
 
USD 234.40
Share Class Size (Mil)
-
 
-
Max Initial Charge
 
-
Ongoing Charge
18/02/2019
 
0.35%
Analyst Report
Calamos Global Convertible utilises a conventional approach that has generated average returns over the medium term. Experienced managers lead this team, but an expensive fee schedule limits the fund's appeal. The fund earns a Morningstar Analyst...
Click here to read this analyst report
Morningstar Pillars
People
Neutral
Parent
Neutral
Process
Neutral
Performance
Neutral
Price
Negative
Investment Objective: Calamos Global Convertible X USD Acc
Calamos Global Convertible Opportunities Fund's investment objective is high long-term total return through capital appreciation and current income. The Fund will invest at least 70% of its net assets in convertible securities and similar convertible instruments including Synthetic Convertible Securities, issued by companies worldwide. The remainder of the Fund may be invested in securities that support the Fund's objective such as equities, fixed-income, variable interest securities, collective investment schemes, cash and cash like securities such as commercial paper, certificates of deposit or treasury bills. The Investment Manager seeks to maximize the risk-reward profile through the investment in convertible securities of issuers of any country. The Fund provides broadly diversified exposure to the global convertible bond universe and at times may invest up to 30 % of its net assets in the securities of issuers in emerging markets.
Returns
| | |
| --- | --- |
| Trailing Returns (EUR) | 09/10/2009 |
| YTD | 25.56 |
| 3 Years Annualised | - |
| 5 Years Annualised | - |
| 10 Years Annualised | - |
Management
Manager Name
Start Date
John Calamos
27/11/2007
Eli Pars
26/06/2014
Inception Date
27/11/2007
Benchmarks
Fund Benchmark
Morningstar Benchmark
ICE BofAML Global 300 Convt TR HUSD
TReuters Global CB TR USD
Target Market
Role In Portfolio
Standalone / Core
Not Specific
Component
Not Specific
Other
Not Specific
Primary Objective
Preservation
Not Specific
Growth
Yes
Income
Not Specific
Hedging
Not Specific
Other
Not Specific
Portfolio Profile for  Calamos Global Convertible X USD Acc
30/04/2019
Morningstar Style Box®
Equity Style
Morningstar Style Box®
Fixed Income Style

Asset Allocation
 
% Long
% Short
% Net Assets
Stocks
4.97
0.00
4.97
Bonds
6.52
0.00
6.52
Cash
4.70
0.00
4.70
Other
83.81
0.00
83.81
Fixed Income
Effective Maturity
-
Effective Duration
-

| | |
| --- | --- |
| Top 5 Regions | % |
| United States | 69.98 |
| Asia - Emerging | 30.02 |
| Canada | 0.00 |
| Latin America | 0.00 |
| United Kingdom | 0.00 |
Top 5 Sectors
%
Utilities
32.41
Real Estate
25.52
Energy
22.95
Financial Services
14.61
Consumer Cyclical
4.50