Performance History
30/06/2018
Growth of 1,000 (EUR)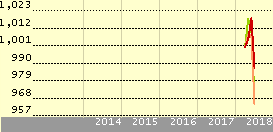 Fund
-
-
-
-
-
+/-Cat
-
-
-
-
-
+/-Idx
-
-
-
-
-
 
Benchmarks: MSCI EM NR USD
Key Stats
NAV
18/07/2018
 
USD 93.78
Day Change
 
0.57%
Morningstar Category™
 
Global Emerging Markets Equity
ISIN
 
LU0400678412
Fund Size (Mil)
25/06/2019
 
USD 7628.92
Share Class Size (Mil)
18/07/2018
 
USD 0.33
Max Initial Charge
 
-
Ongoing Charge
25/11/2018
 
0.15%
Analyst Report
JPM Emerging Markets Equity is led by a talented portfolio manager who is surrounded by a deep team and follows a well-codified approach. The strategy's many strengths lift its Morningstar Analyst Rating to Silver from Bronze. Leon Eidelman was...
Click here to read this analyst report
Morningstar Pillars
People
Positive
Parent
Positive
Process
Positive
Performance
Positive
Price
Neutral
Investment Objective: JPM Emerging Markets Equity X (dist) USD
To provide long-term capital growth by investing primarily in emerging market companies. At least 67% of the Sub-Fund's assets (excluding cash and cash equivalents) will be invested in equity securities of companies that are domiciled in, or carrying out the main part of their economic activity in, an emerging market country. Debt securities, cash and cash equivalents may be held on an ancillary basis. The Sub-Fund may also invest in UCITS and other UCIs. The Sub-Fund may invest in assets denominated in any currency and currency exposure may be hedged. The Sub-Fund may use financial derivative instruments for the purposes of hedging and efficient portfolio management.
Returns
| | |
| --- | --- |
| Trailing Returns (EUR) | 18/07/2018 |
| YTD | - |
| 3 Years Annualised | - |
| 5 Years Annualised | - |
| 10 Years Annualised | - |
| | | |
| --- | --- | --- |
| 12 Month Yield |   | - |
| Dividend Paying Frequency |   | Annually |
Management
Manager Name
Start Date
Leon Eidelman
15/02/2013
Austin Forey
07/01/1997
Inception Date
10/02/2009
Benchmarks
Fund Benchmark
Morningstar Benchmark
MSCI EM NR USD
MSCI EM NR USD
Target Market
Role In Portfolio
Standalone / Core
Not Specific
Component
Not Specific
Other
Not Specific
Primary Objective
Preservation
No
Growth
Yes
Income
Not Specific
Hedging
Not Specific
Other
Not Specific
Portfolio Profile for  JPM Emerging Markets Equity X (dist) USD
31/05/2019
Morningstar Style Box®
Equity Style
Asset Allocation
 
% Long
% Short
% Net Assets
Stocks
98.91
0.00
98.91
Bonds
0.21
0.00
0.21
Cash
1.32
0.44
0.88
Other
0.00
0.00
0.00
| | |
| --- | --- |
| Top 5 Regions | % |
| Asia - Emerging | 50.62 |
| Asia - Developed | 21.20 |
| Latin America | 14.62 |
| Africa | 4.99 |
| Europe - Emerging | 4.40 |
Top 5 Sectors
%
Financial Services
43.89
Technology
21.88
Consumer Cyclical
14.23
Consumer Defensive
11.05
Industrials
5.39