Prescient GF Global Positive Rtn Euro B
Performance History
28/02/2014
Growth of 1,000 (EUR)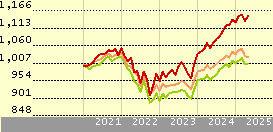 Fund
5.0
1.5
3.3
8.5
0.1
+/-Cat
1.9
4.2
-3.8
5.4
-1.1
+/-Idx
-1.6
-0.4
-8.9
2.2
-1.8
 
Benchmarks: Cat 75%Barclays EurAgg TR&2...
Key Stats
NAV
07/03/2014
 
EUR 0.71
Day Change
 
-0.14%
Morningstar Category™
 
EUR Cautious Allocation - Global
ISIN
 
-
Fund Size (Mil)
07/03/2014
 
EUR 25.74
Share Class Size (Mil)
07/03/2014
 
EUR 8.36
Max Initial Charge
 
5.82%
Total Expense Ratio
30/06/2010
 
0.66%
Investment Objective: Prescient GF Global Positive Rtn Euro B
The fund aims to gain broad exposure to global markets, including equity, interest bearing, currency and real estate securities, driven by asset class valuations across markets. The prescient Global cautious fund will aim to minimise volatility in the individual equity markets in which it invests by utilising investment strategies to protect against downside. This will result in the fund holding a more moderate allocation to equities over time.
Returns
| | |
| --- | --- |
| Trailing Returns | 07/03/2014 |
| YTD | 0.28 |
| 3 Years Annualised | 4.26 |
| 5 Years Annualised | 6.22 |
| 10 Years Annualised | - |
Management
Manager Name
Start Date
Guy Toms
30/08/2007
Inception Date
25/07/2007
Benchmarks
Fund Benchmark
Morningstar Benchmark
EU Harmonised CPI +1
Cat 75%Barclays EurAgg TR&25%FTSE Wld TR
Portfolio Profile for  Prescient GF Global Positive Rtn Euro B
31/12/2012
Morningstar Style Box®
Equity Style
Morningstar Style Box®
Fixed Income Style

Asset Allocation
 
% Long
% Short
% Net Assets
Stocks
3.58
0.00
3.58
Bonds
51.15
0.00
51.15
Cash
82.42
37.14
45.27
Other
0.00
0.00
0.00
Fixed Income
Effective Maturity
-
Effective Duration
-

Top 5 Regions
%
No Data Available
Top 5 Sectors
%
No Data Available