Performance History
31/01/2019
Growth of 1,000 (EUR)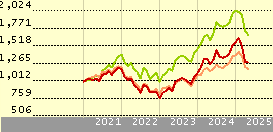 Fund
19.3
13.9
29.5
8.2
9.6
+/-Cat
5.0
3.5
9.0
12.6
1.0
+/-Idx
2.6
-0.9
8.0
5.9
2.3
 
Benchmarks: MSCI World/Information Tech...
Key Stats
NAV
15/02/2019
 
USD 49.90
Day Change
 
0.32%
Morningstar Category™
 
Sector Equity Technology
ISIN
 
IE0030772275
Fund Size (Mil)
15/02/2019
 
USD 2909.39
Share Class Size (Mil)
15/02/2019
 
USD 62.70
Max Initial Charge
 
5.00%
Ongoing Charge
15/02/2018
 
1.66%

*  This rating and report were issued for a different share class of this fund. The performance and fee structure of this class may vary from that referenced.
Analyst Report
Polar Capital Global Technology benefits from experienced managers backed by a well-resourced team.The approach is characterised by the managers' belief that they can add value by investing in companies offering new, disruptive technologies. This...
Click here to read this analyst report
Morningstar Pillars
People
Positive
Parent
Positive
Process
Positive
Performance
Positive
Price
Negative
Investment Objective: Polar Capital Global Tech Inc
The investment objective of the Fund is long term capital appreciation by way of investing in a globally diversified portfolio of technology companies. Although the Fund may receive income in the form of dividends, interest and from other sources, income is not a primary consideration. The Fund will invest at least two thirds of its total assets in technology-related companies worldwide. The Fund will take a geographically diversified approach and operate within broad asset allocation ranges, but there are no specified limits on investing in any geographical region or single country.
Returns
| | |
| --- | --- |
| Trailing Returns (GBP) | 15/02/2019 |
| YTD | 15.89 |
| 3 Years Annualised | 33.52 |
| 5 Years Annualised | 21.05 |
| 10 Years Annualised | 21.83 |
| | | |
| --- | --- | --- |
| 12 Month Yield |   | 0.00 |
| Dividend Paying Frequency |   | Annually |
Management
Manager Name
Start Date
Nick Evans
01/01/2008
Inception Date
19/10/2001
Benchmarks
Fund Benchmark
Morningstar Benchmark
DJ World Technology TR GBP
MSCI World/Information Tech NR USD
Target Market
Role In Portfolio
Standalone / Core
Not Specific
Component
Not Specific
Other
Not Specific
Primary Objective
Preservation
No
Growth
Yes
Income
No
Hedging
No
Other
Not Specific
Portfolio Profile for  Polar Capital Global Tech Inc
31/12/2018
Morningstar Style Box®
Equity Style
Asset Allocation
 
% Long
% Short
% Net Assets
Stocks
92.18
0.22
91.96
Bonds
0.00
0.00
0.00
Cash
10.78
0.00
10.78
Other
0.00
2.74
-2.74
| | |
| --- | --- |
| Top 5 Regions | % |
| United States | 77.49 |
| Asia - Emerging | 7.25 |
| Asia - Developed | 6.82 |
| Japan | 6.07 |
| Eurozone | 2.37 |
Top 5 Sectors
%
Technology
81.17
Consumer Cyclical
8.10
Financial Services
4.18
Industrials
2.59
Healthcare
2.05