FSSA Hong Kong Growth I USD Acc
Performance History
28/02/2023
Growth of 1,000 (EUR)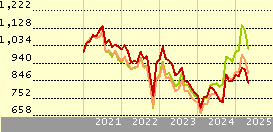 Fund
21.1
3.0
1.4
-5.3
0.3
+/-Cat
5.9
-0.3
5.7
4.1
0.8
+/-Idx
5.4
11.1
7.1
1.6
0.2
 
Benchmarks: Hang Seng HSI GR HKD
Key Stats
NAV
20/03/2023
 
USD 73.32
Day Change
 
-1.76%
Morningstar Category™
 
Hong Kong Equity
ISIN
 
IE0008369823
Fund Size (Mil)
16/03/2023
 
USD 151.34
Share Class Size (Mil)
16/03/2023
 
USD 102.25
Max Initial Charge
 
5.00%
Ongoing Charge
20/02/2023
 
1.61%
Analyst Report
FSSA Hong Kong Growth's strong investment team and time-tested investment process make it an outstanding choice for investors who seek exposure to this niche market. Its clean share class III maintains a Morningstar Analyst Rating of Gold, while...
Click here to read this analyst report
Morningstar Pillars
People
High
Parent
Average
Process
High
Performance
Price
Investment Objective: FSSA Hong Kong Growth I USD Acc
The Fund invests primarily (at least 70% of its Net Asset Value) in equity securities or equity-related securities listed on the Stock Exchange of Hong Kong Limited or securities issued by such companies which in the Investment Manager's opinion have significant assets, business, production activities, trading or other business interests in Hong Kong and traded on Regulated Markets. The Fund is not subject to any limitation on the portion of its Net Asset Value that may be invested in any sector or any limitation on the market capitalisation of the companies in which it may invest.
Returns
| | |
| --- | --- |
| Trailing Returns (EUR) | 20/03/2023 |
| YTD | -4.21 |
| 3 Years Annualised | 4.37 |
| 5 Years Annualised | 0.75 |
| 10 Years Annualised | 6.21 |
Management
Manager Name
Start Date
Martin Lau
30/04/2002
Richard Jones
19/04/2013
Click here to see others
Inception Date
22/02/2000
Benchmarks
Fund Benchmark
Morningstar Benchmark
MSCI Hong Kong NR USD
Hang Seng HSI GR HKD
Target Market
Role In Portfolio
Standalone / Core
Not Specific
Component
Not Specific
Other
Not Specific
Primary Objective
Preservation
No
Growth
Yes
Income
Not Specific
Hedging
Not Specific
Other
Not Specific
Portfolio Profile for  FSSA Hong Kong Growth I USD Acc
28/02/2023
Morningstar Style Box®
Equity Style
Asset Allocation
 
% Long
% Short
% Net Assets
Stocks
98.64
0.00
98.64
Bonds
0.00
0.00
0.00
Cash
1.36
0.00
1.36
Other
0.00
0.00
0.00
| | |
| --- | --- |
| Top 5 Regions | % |
| Asia - Emerging | 56.08 |
| Asia - Developed | 37.04 |
| United Kingdom | 4.65 |
| United States | 2.23 |
| Canada | 0.00 |
Top 5 Sectors
%
Financial Services
21.07
Consumer Cyclical
18.27
Industrials
17.70
Consumer Defensive
12.40
Communication Services
8.93