Performance History
30/09/2020
Growth of 1,000 (EUR)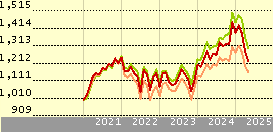 Fund
15.9
7.5
-9.7
28.2
-10.5
+/-Cat
5.4
-2.8
1.9
2.3
-2.3
+/-Idx
0.9
-1.2
0.3
1.2
-0.5
 
Benchmarks: MSCI ACWI Small NR USD
Key Stats
NAV
23/10/2020
 
EUR 228.53
Day Change
 
0.38%
Morningstar Category™
 
Global Small-Cap Equity
ISIN
 
IE00B42W3S00
Fund Size (Mil)
23/10/2020
 
USD 2310.44
Share Class Size (Mil)
23/10/2020
 
EUR 55.13
Max Initial Charge
 
-
Ongoing Charge
18/02/2020
 
0.29%
Analyst Report
Vanguard Global Small Cap Index offers a cheap and highly efficient way to gain access to the global small-cap segment. We are confident in the ability of the portfolio management team to tackle the day-to-day issues such as liquidity and high...
Click here to read this analyst report
Morningstar Pillars
People
Above Average
Parent
High
Process
Above Average
Performance
Price
Investment Objective: Vanguard Glbl Small-Cap Idx Inv EUR Acc
The Fund seeks to provide long term growth of capital by tracking the performance of the Morgan Stanley Capital International (MSCI) Small Cap World Index, a market capitalisation weighted index of small cap companies in developed countries. The Fund employs a "passive management" or indexing investment strategy designed to track the performance of the index by investing in all, or a representative sample, of the securities that make up the index, holding each stock approximate proportion to its weighting in the index.
Returns
| | |
| --- | --- |
| Trailing Returns (EUR) | 23/10/2020 |
| YTD | -6.10 |
| 3 Years Annualised | 3.54 |
| 5 Years Annualised | 6.24 |
| 10 Years Annualised | - |
Management
Manager Name
Start Date
Not Disclosed
10/12/2009
Inception Date
27/02/2014
Benchmarks
Fund Benchmark
Morningstar Benchmark
MSCI World Small Cap NR USD
MSCI ACWI Small NR USD
Target Market
Role In Portfolio
Standalone / Core
Not Specific
Component
Not Specific
Other
Not Specific
Primary Objective
Preservation
No
Growth
Yes
Income
No
Hedging
Not Specific
Other
Not Specific
Portfolio Profile for  Vanguard Glbl Small-Cap Idx Inv EUR Acc
30/09/2020
Morningstar Style Box®
Equity Style
Asset Allocation
 
% Long
% Short
% Net Assets
Stocks
99.81
0.00
99.81
Bonds
0.00
0.00
0.00
Cash
0.00
0.00
0.00
Other
0.19
0.00
0.19
| | |
| --- | --- |
| Top 5 Regions | % |
| United States | 56.29 |
| Japan | 12.43 |
| Eurozone | 8.12 |
| Europe - ex Euro | 6.71 |
| United Kingdom | 6.25 |
Top 5 Sectors
%
Industrials
17.95
Technology
14.40
Consumer Cyclical
13.82
Healthcare
12.99
Financial Services
10.74