BNPP E € Cp Bd SRI Fsl Fr 1-3Y Tr I Acc
Performance History
30/06/2022
Growth of 1,000 (EUR)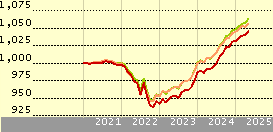 Fund
-
-
0.5
-0.2
-4.3
+/-Cat
-
-
0.2
-0.2
0.2
+/-Idx
-
-
-0.2
-0.2
-0.4
 
Benchmarks: Bloomberg Euro Agg Corp 1-3...
Key Stats
NAV
30/06/2022
 
EUR 95.92
Day Change
 
0.10%
Morningstar Category™
 
EUR Corporate Bond - Short Term
ISIN
 
LU2008760758
Fund Size (Mil)
30/06/2022
 
EUR 735.73
Share Class Size (Mil)
30/06/2022
 
EUR 93.46
Max Initial Charge
 
-
Ongoing Charge
18/02/2022
 
0.20%
Investment Objective: BNPP E € Cp Bd SRI Fsl Fr 1-3Y Tr I Acc
Replicate the performance of the Bloomberg-Barclays MSCI Euro Corp SRI Sustainable Reduced Fossil Fuel 1-3Y (NTR) Index* (Bloomberg: I34701 Index), including fluctuations, and to maintain the Tracking Error between the sub-fund and the index below 1%. For that purpose, the manager of the sub-fund's portfolio will be able to switch between the two index replication methods described below, to ensure optimum management of the sub-fund. The sub-fund will not invest more than 10% of its net assets in shares or units issued by UCITS or other UCIs.
Returns
| | |
| --- | --- |
| Trailing Returns (EUR) | 30/06/2022 |
| YTD | -4.25 |
| 3 Years Annualised | - |
| 5 Years Annualised | - |
| 10 Years Annualised | - |
Management
Manager Name
Start Date
Luca Pagni
04/10/2019
Alexandre ZAMORA
06/01/2020
Inception Date
04/10/2019
Benchmarks
Fund Benchmark
Morningstar Benchmark
BBgBarc MSCI € Co SRISust xFF 1-3 NR EUR
Bloomberg Euro Agg Corp 1-3 Yr TR EUR
Target Market
Role In Portfolio
Standalone / Core
Not Specific
Component
Not Specific
Other
Not Specific
Primary Objective
Preservation
Not Specific
Growth
Yes
Income
Not Specific
Hedging
Not Specific
Other
Not Specific
Portfolio Profile for  BNPP E € Cp Bd SRI Fsl Fr 1-3Y Tr I Acc
31/05/2022
Fixed Income
Effective Maturity
-
Effective Duration
-
Morningstar Style Box®
Fixed Income Style
Asset Allocation
 
% Long
% Short
% Net Assets
Stocks
0.00
0.00
0.00
Bonds
89.51
0.00
89.51
Cash
0.50
0.00
0.50
Other
9.99
0.00
9.99