Franklin Mutual US Value N acc USD
Performance History
30/09/2021
Growth of 1,000 (EUR)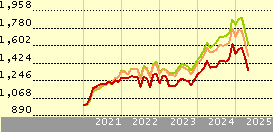 Fund
-7.0
-6.9
23.1
-14.8
21.4
+/-Cat
-8.6
-2.2
-3.0
-10.1
-0.8
+/-Idx
-6.8
-3.2
-5.8
-9.1
-1.2
 
Benchmarks: Russell 1000 Value TR USD
Key Stats
NAV
20/10/2021
 
USD 48.34
Day Change
 
1.00%
Morningstar Category™
 
US Large-Cap Value Equity
ISIN
 
LU0094041471
Fund Size (Mil)
30/09/2021
 
USD 357.93
Share Class Size (Mil)
30/09/2021
 
USD 31.89
Max Initial Charge
 
3.00%
Ongoing Charge
24/01/2021
 
2.60%
Analyst Report
An investment team shakeup and a truncated tool kit limit Franklin Mutual US Value's Morningstar Analyst Rating to Neutral for nine share classes and merit a downgrade to Negative for the most expensive four.The team behind this strategy has seen...
Click here to read this analyst report
Morningstar Pillars
People
Average
Parent
Average
Process
Average
Performance
Price
Investment Objective: Franklin Mutual US Value N acc USD
The Fund's primary investment objective is capital appreciation. A secondary objective is income The Fund pursues its objectives principally through investments in common stock, preferred stock, and debt securities convertible or expected to be convertible into common or preferred stock of US companies. At least 70% of the Fund's net assets will be invested in securities of US issuers. The opinions of the Investment Manager are based upon analysis and research, taking into account, among other factors, the relationship of book value (after taking into account accounting differences among countries) to market value, cash flow, multiple of earnings of comparable securities, creditworthiness of issuers, as well as the value of collateral securing a debt obligation, with the objective of purchasing equity and debt securities at below their intrinsic value.
Returns
| | |
| --- | --- |
| Trailing Returns (EUR) | 20/10/2021 |
| YTD | 26.76 |
| 3 Years Annualised | 6.57 |
| 5 Years Annualised | 4.88 |
| 10 Years Annualised | 9.75 |
Management
Manager Name
Start Date
Peter Langerman
01/05/2005
Christian Correa
02/11/2020
Click here to see others
Inception Date
07/07/1997
Benchmarks
Fund Benchmark
Morningstar Benchmark
Linked Russell 1000 Value NR USD
Russell 1000 Value TR USD
Target Market
Role In Portfolio
Standalone / Core
Not Specific
Component
Not Specific
Other
Not Specific
Primary Objective
Preservation
Not Specific
Growth
Yes
Income
Not Specific
Hedging
Not Specific
Other
Not Specific
Portfolio Profile for  Franklin Mutual US Value N acc USD
30/09/2021
Morningstar Style Box®
Equity Style
Asset Allocation
 
% Long
% Short
% Net Assets
Stocks
94.61
0.00
94.61
Bonds
1.18
0.00
1.18
Cash
4.20
0.00
4.20
Other
0.01
0.00
0.01
| | |
| --- | --- |
| Top 5 Regions | % |
| United States | 97.98 |
| United Kingdom | 2.02 |
| Canada | 0.00 |
| Latin America | 0.00 |
| Eurozone | 0.00 |
Top 5 Sectors
%
Financial Services
22.98
Healthcare
16.34
Technology
14.44
Communication Services
11.12
Industrials
9.44